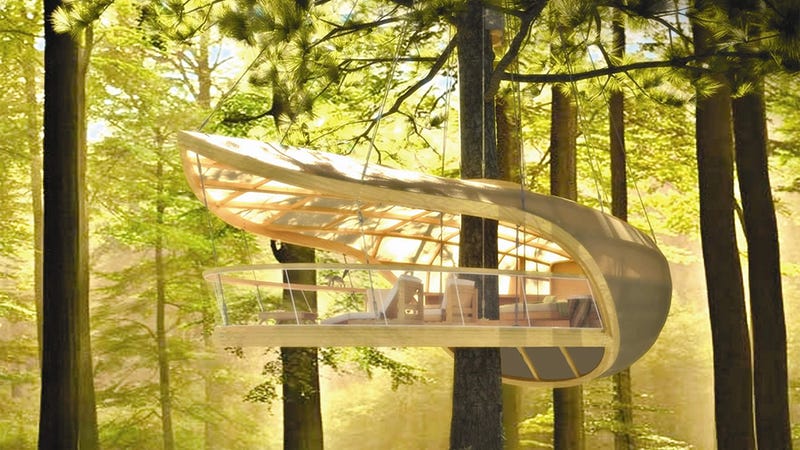 I love the design of this tree house created by architectural firm Farrow for an eco resort in the middle of a protected Canadian forest. A floating ship—it is suspended from the tree, not nailed to it—that can fly to space at any given time. Inside it is beautiful too.
Living in a treehouse is indisputably incredible. Sure, you might be roughing it a little bit, considering there's a climb and the trees are flammable (thus limiting your cooking capabilities). But the views and the experience are unmatched. From the antique to the futuristic, here are some of the most beautiful…
It's nice to be a grandparent because you can enjoy spending time with your grandkids without worrying about the minutia of parenting. Plus, it's your second go around with little rascals so you get to have fun with it. Like Steve and Jeri Wakefield, two grandparents who are having so much fun at being awesome…
As pretty and ingenious as Brock Davis's design is, I couldn't help but wonder why some enterprising you tot hadn't already created something like it while attempting to do something, anything but eat their broccoli. [Brock Davis via Boing Boing]
This camouflage treehouse is actually a two level modern abode with a deck, livingroom, kitchen and sleeping quarters. [Designboom]
Forget about that
treehouse bedroom
I wrote about yesterday, the new mark to beat comes from superdad Steve Norris who spent 15 months building his kids a treehouse so epic it became in Canada. Suspended in a tree 13 feet up, the fort features electricity, cable TV, an intercom system, a makeshift urinal, smoke…
I'm not sure who is getting the Magic Treehouse Bedroom that is currently being constructed by the craftsman at Kidtropolis, but I'm jealous. When I was a kid, I didn't have any fancy indoor treehouse to sleep in-just a cot and some newspaper. Still, I am not too bitter to recognize the artistry that goes into making…
British design firm Sybarite aims to develop a modular treehouse concept that the company says could encourage a more organic approach to country living. The plan is to pre-fabricate modules of the house, quickly assembling a dwelling with up to five bedrooms.
Tom Chudleigh set out to build boats and ended up making these sophisticated treehouse spheres that are suspended via wires from old-growth trees or any other stationary objects. He first constructs a wooden frame, and then surrounds it with laminated wood and a clear fiberglass shell. Looks like a great place to…

Every year, the Neiman Marcus Christmas Book includes a handful of outrageously expensive items, including a couple that sound like mis-placed April Fool's Day gags.