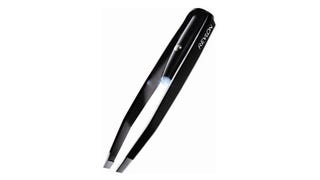 Tweezers with an LED light? These are so smart. Bless you, Revlon.
The iPad has been steadily becoming more entrenched in the medical community, but maybe in no more fun way than this new app from researchers at the Universities of Glasgow and Bristol. The app links your iPad to "optical tweezers" that use lasers to manipulate microscopic particles. The interface is familiar—pinch…
Every household needs a pair of disco tweezers. Made of rustproof steel and shatterproof polycarbonate, they light up the minute you apply pressure to the arms. But can they really remove splinters and hairs that grow where they shouldn't, because they look more like a set of ice tongs to me. For $24.95, they come…
Being the hairy, borderline cannibalistic males that we are, you'd think we would know more about tweezer technology. Alas, our unibrows sit shamefully below our thick, protruding foreheads, taunting us to pluck it.