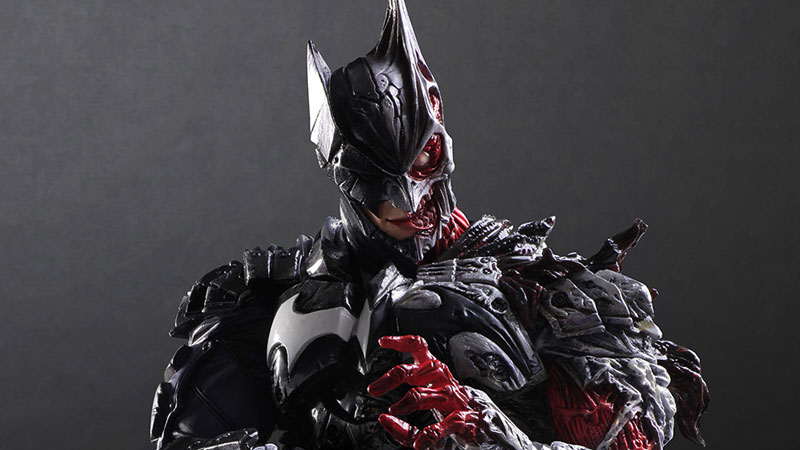 Square-Enix's Play Arts Kai DC figures have turned Batman into all sorts of crazy things—cowboys, a giant robo-dragon, a samurai, the list goes on—but now they're turning him into his own villains, starting with this wonderful Two-Face mashup.
Click to viewAs soon as Christopher Nolan decided to put the Joker in a nurse's uniform in The Dark Knight, the countdown to this image had started. But the artist behind it, Ponderosa, doesn't just focus on Joker/Two-Face slash. She's also done similar portraits of the stars of Supernatural, Iron Man, and... somewhat…
Don't give up on Harvey Dent! Gotham City's crusading district attorney wouldn't give up on you, so why shouldn't you have faith in his comeback chops? Actor Aaron Eckhart is ready - eager, even - to reprise the "white knight" role from The Dark Knight in a third Batman movie. Spoilers ahead, kiddies.
After all the hype and buzz, The Dark Knight turns out to be a taut, morally ambiguous crime drama that shies away for superhero schtick in favor of something more understated and suspenseful. As long as you leave the movie somewhere around the halfway point. If you stay for the whole thing, then be prepared to put up…
So that shocking Harvey Dent image we ran in this morning's spoiler round up? The one I was pretty sure was a fake? It's looking more like it might be real. Spoiler TV's movie blog posted a bunch of screencaps from The Dark Knight, including a better version of that image. And it does look as though Nurse Joker is…
You wouldn't want to get on Harvey Dent's bad side, judging from this new video clip released by Warner Brothers on the Dark Knight viral website. I'm guessing the clip comes from the very end of the movie, and it's actually the first viral marketing that has made me genuinely excited for this movie. Aaron Eckhart was…
The new Dark Knight trailer is finally up for the masses in HD. As we reported, this trailer gives you the first glimpse of the new Batman bad boy, in all his alarming, grisly greatness. And we have some images of this villain's previous appearances, for comparison purposes.
Here's a cameraphone copy of the Batman: The Dark Knight trailer which showed in New York yesterday and then popped up on YouTube. I joined the Clown Gang in New York for a rendezvous, which led to a trailer screening. Blink and you'll miss the first appearance of a major new Bat-villain. Minor spoilers ahead.