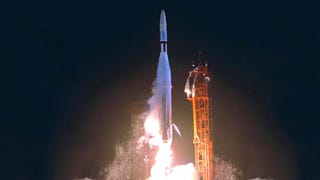 On July 22, 1962, at 9:20 PM, the Mariner I sat idly on its platform, ready to make history. After investing years of construction, calculation, and funding, NASA had high hopes that its rocket would successfully conduct a flyby survey of Venus, thus shifting the Space Race's momentum back to the home front. In every…
Spot a typo on the Internet? Get your pitchforks, saddle up the horses, write to your Congressman and raise hell until it's fixed. Or... just leave a nasty comment! Truthfully though, typos suck. When you're reading something, blatant tyops (heh) can smack your eyes and snap you back to consciousness. It's like being…
People get tattoos commemorating the things they love most: mothers, lovers, flaming skulls, et cetera. But in this spell check era of ours, it's good to see someone who appreciates that squiggly red line enough to keep it around permanently. [Neatorama]
The folks over at Notcot were using a microscope to check out their old US Visa and Border Crossing Card, a document which features tiny portraits of every U.S. President, when they noticed something strange. Who is John Quincy Adames?
Sure, typos can be funny, but when a stock trader is able to cause a huge stock plunge by accidentally entering a "b" for billion instead of an "m" for million" it's just plain scary. [CNBC]
A great democratizing technology, the internet is supposed to let everyone fulfill their unique, individual potential. But some internet experiences are eerily universal. Like the way we forget we're not listening to music. Or the way we respond to typos.
Elecom's TK-U09FG keyboards have gears mounted under each key, depressing evenly even if just hit on a corner. Apparently, the cause of typos is hitting a key on a corner and having the keystroke not regstr. By detecting and activating the keys on the corners, this keyboard supposedly cuts down on typos. We don't know…