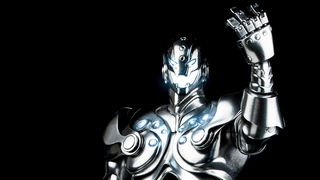 Last month we got a sneaky first look at Ashley Wood's latest Marvel toy: A pretty fabulous looking Ultron. But now ThreeA have unveiled a bunch of pictures of the figure, and not only does it come in a variety of Ultronny metallic colours, it also looks pretty damn amazing.
It's a real testament to the talented sculptors and artists working at Hot Toys that a sixth-scale action figure that looks like it's been a child's only play toy for ten years is one of their most desirable creations. But the company's new Avengers: Age of Ultron Ultron Mark I is easily one of the most detailed…
One of the many, many reasons to love toys is that they often give us a sneak peek at upcoming movies or TV series we're dying to know more about. It's no surprise that Avengers: Age of Ultron will arrive in theaters alongside countless toys on store shelves, but ahead of its release Hot Toys is finally giving us a…
Age of Ultron's big bad can look awfully creepy when he's working those James Spader-y robo eyeballs of his - and it looks like Hot Toys have captured them pretty perfectly in their latest figure. I'm not sure I want this figure on my desk, his eyes boring into my soul in judgement. Quit being so judgy, Ultron!
Outstanding illustration of the new Ultron on the cover of Empire this week. I remember how fascinated I was the first time I saw Ultron in Avengers. It was issue #162, published in 1977—I saw it much later because it arrived to Spain in the 80s. Here's how artists changed Ultron's appearance through the years:
Allegedly, this is the first look at the full Ultron, the evil robot that is set to wreak havoc in Avengers: Age of Ultron, the second installment of the series directed by Joss Whedon. It really looks like one menacing son of a gun.