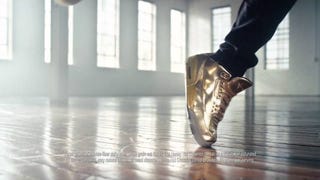 Remember for a second that Usher is a dad. Bearing that in mind, let's move onto the news that the R&B singer is giving away a new song at the bottom of Honey Nut Cheerios boxes sold exclusively at Walmart. Taylor Swift, you still looking for post-Spotify ideas?
One hologram performance is enough for the year, and we're already put that behind us with Tupac's Coachella reincarnation. Now Usher is jumping on the virtual performance bandwagon—he'll be appearing with digital backup dancers in a concert next month in London.
Ok, Usher. Come on dude. You're co-hosting SNL. I know like 3.5 million people follow you on Twitter, but seriously. At least wait until the tapes are done rolling to check your iPhone. Because you're in serious violation of common sense etiquette.