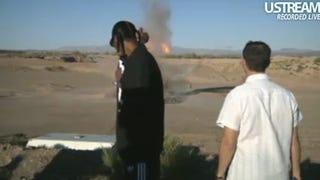 To promote online game Mafia Wars Las Vegas, game developer Zynga hired Snoop Dogg to blow up a 4-ton armored truck in the Nevada desert, while it was live-streamed to Ustream. It pulled in more viewers than TV broadcasts attract.
If the Canon EOS 5D Mark II was good enough to film the entire season finale of House on, there it should be more than adequate to use as a Skype webcam. But how?
It was only last week that we reported on Apple allowing the first live-streaming program onto its App Store, Live Knocking Video. Now the floodgates have opened, with Ustream's app available not just for jailbroken iPhones any more.
Previous versions of the UStream app for the iPhone only allowed you to stream video from the service. Their latest offering finally allows you to record and send video to the web.
That Ustream viewer app we talked about is now live in the iPhone App Store, free for your downloading pleasure. Get it now to avoid disappointment tomorrow morning. [App Store]