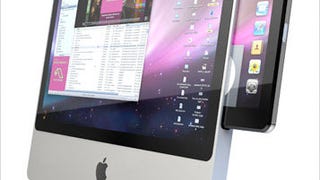 Days away from the supposed launch of the Apple tablet, we know almost nothing about it. While we can't say for sure which rumors are true, we can definitely say which, over the past decade, were just plain dumb.
Intel halted development of Ultra Wideband technologies, leaving the future of the standard highly in question. According to
Electronista
, Intel decided to pull the plug on the 5-year-old project last month but only just announced it now. This comes after one of the biggest UWB chip manufacturers, Wiquest, stopped…
Westinghouse is jumping into the wireless TV business with partner Pulse-LINK to unveil an ultrawideband HDTV in the second quarter of next year. Using Pulse-LINK's wireless HDMI system, a highbandwidth Blu-ray or HD DVD signal can be streamed through an invisible pipeline of up to 500 Mbps at 8 feet, or 115 Mbps at…
Now that USB video is a reality for many PC users, it makes sense that someone would take that technology wireless. It also makes sense that it would come from DisplayLink, developers of the USB display technology found in products from Kensington, Toshiba, IOGear and Samsung, and Alereon, best known for the …
Standing at 35mm thick, Hitachi's Wooo UT series of LCDs earns them the accolade of world's thinnest production LCD television manufacturer. Three sizes will be made available, either 42" (¥430 000, $3,760) or 37" (¥330 000, $2886) at 1080p and a smaller 32" (¥230 000, $2011) model with a resolution of 1366 x 768…
Hot on the heels of the wireless USB devices that hit this week is this ultra wide band port replicator dock for its slim R400. It has two USB ports on the front, two on the back, minijack audio out, Ethernet, and a DVI output. It uses UWB to hit 400mbits across all those ports. It's $500, and again, only compatible…
Belkin announced its Cable-Free USB Hub will ship in a couple of weeks for $200. Touted as the first wireless USB hub and the first ultra-wideband (UWB) product to market, it lets you hook up wirelessly from 30 feet away, with what the company says is 480Mbps throughput.
Y-E Data has shipped the first Ultra Wideband USB hub in Japan. The hub uses the Wisair chipset ahs has a small USB dongle that that connects to your computer and wirelessly communicates with a four-port USB hub. Now we just have to wait to see how long a device like this takes to get through the FCC's…
The cable-less future gets a little closer with Omron's ultra wideband (UWB) MIMO antenna destined for OEMs, specifically created for high definition video transmission. Omron calls it the first UWB antenna to transmit HD video. The company notes that HDTVs, projectors, DVD players and scalers can be equipped with…
It was well over a year ago when we first heard word about the super crazy wireless USB contraptions that were coming out. Since then, Belkin has tried to push out a wireless USB device and it has had never-ending delays. Finally someone has managed to win this race and make a wireless USB hub available. Y-E Data…
A much faster version of Bluetooth is on the way, and officials with the Bluetooth Special Interest Group say products using the wireless protocol may be on the market as early as 2007. The next-generation Bluetooth is said to operate at similar distances (around 30 feet, best case) to today's Bluetooth 2.0 but is a…
A standout at CES was Belkin s CableFree USB Hub, which the company said would be available in April, but now says that release has been pushed back to early July. Belkin attributes the late release to general manufacturing delays. Enabled by Freescale s ultra wideband (UWB) technology, it was to be the first shipping…
I thought the cooperation to find a single ultra-wideband standard seemed to good to be true, and now we can kiss the idea goodbye for quite a while as the IEEE Task Group TG3a disbands. Forced together to come up with this standard, it seems that the group has given up because the members of the WiMedia Alliance and…