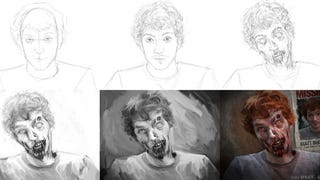 As if there isn't enough social networking spam already, the True Blood Season 2 Blu-Ray discs come with a feature that allows people to automatically share their vampire obsession on Twitter and Facebook—complete with "transformed" photos.
Vampires don't have reflections, so how would they get a sexy clean shave? This guy has the answer—if you assume that bloodsuckers actually show up on video. [There I Fixed It]
Yep, I drank it. It's not what I expected.
Those nutty Brits, obsessed with their CCTV cameras, dirty hot water and blood pudding, have decided to mix it all into a single gadget: road cameras which can detect blood and water in the bodies inside the car using an infrared beam. The system will be able to spot who's abusing the carpool lanes, fining you in case…
Here's a 300MPH Jet car that weighs 2,200 lbs, is 30 feet long and drinks 7-10 gallons of fuel per mile. The jet-car accelerates from 0 to 272 mph in six seconds and is powered by a Rolls Royce Orpheus jet engine theoretically capable of 370mph. The car holds the "Outright British Land Speed Record" and doesn't like…