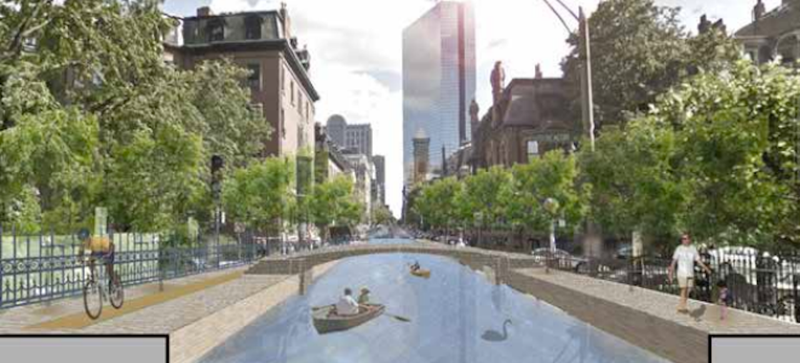 Imagine taking a scenic gondola tour through Boston's historic Back Bay as Red Sox fans saunter towards Fenway over arched bridges. Not far away, the Charles River Basin is padded by wetlands that soak up the rising sea water. This surreal scene, a sort of Venice in New England, could be the reality in a few years.
Taking a vacation to Venice can be a real pain in the ass. Tourists flock to the watery city like like fire ants on a fallen sandwich. Every restaurant is overpriced. The place floods all the time. But you can now avoid all those annoyances thanks to Google Street View.
Pigeons just don't get the same love that canaries, blue jays, and chickadees get. To rehabilitate the images of these vermin birds, artists Julian Charriere and Julius Von Bismarck decided to give them a makeover, creating a machine that draps pigeons and dyes them a wide variety of colors.
This video of a breast bouncing contest, where two well-endowed, bikini clad women face off to see who's got more bounce. The contestants warm up with a catwalk, then a hop, and then get onto a platform carried by a dozen Japanese men. The score is counted by a digital readout — two per girl, naturally. The 7-minute…
The guys who brought you KaZaA and Skype are at it again, and their upcoming Venice Project Peer to Peer streaming will show YouTube how video is really done. Just like KaZaA was a disruptive force in music sharing, and Skype was a disruptive force for phone calls, the Venice Project will kill current online video…