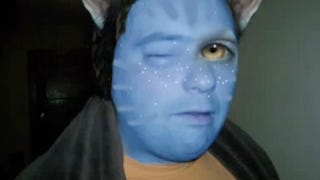 The brains behind the hilarious 70-Minute video review of Phantom Menace is back and taking on James "Snake-Oil Selling" Cameron. The lunatic critic takes the director to task for tricking the audience into loving his theme-park ride of a film.
Yesterday marked the arrival of Elmo Live, the
rapping, dancing and storytelling animatronic doll
that'll be burning up retail this holiday season, Great Depression or not. We got one of the little guys, and thoroughly evaluated his MC skills, jokes and hugging ability. He's a fun little dude, at least for a short…
We've told you all about H2O Audio's Waterproof iPod cases and its improved H3 headphones , but until yesterday we never had the chance to try them out for ourselves. Team player that I am, I hopped in the tub, turned the G-Funk to 11 and took the plunge.

I was lucky enough to get my hands on the first production model of the Magellan Maestro 4050, that is, the very first portable navigation device with voice recognition. And while it doesn't hear everything I yell at it, and I can't control everything it does using only my lovely baritone, it's an amazing first…
Mobility Today has a long video review of the Palm Treo 700p. If you're at all interested in getting a Treo, or if you're curious as to what this can do, give it a look. The guys at MobTod seem to really like it.
David over at OhGizmo did a detailed review of the WickedLasers Nexus, which one of our fair readers won not so long ago. The video's pretty long, but it shows off all the coolness you can do with a $369 laser, including cutting tape, lighting matches, and damaging the corneas of stray cats.
The TORQ P120 is a Windows Mobile 5 smartphone that seems to have just about everything under the sun stuffed into its slim chassis. The phone includes Bluetooth and WiFi along with GSM/GPRS and is as clean as an old-time Palm V, which is always nice to see. Best of all, this is a video review, so we can see some guy…
Here s a little piece of technology you might be interested in seeing. It's the new Honda Civic Hybrid for 2006. The vehicle has been completely redesigned, and it has lots of great technology inside. We road tested a fully-loaded model with a DVD-based GPS navigation system onboard. With all the options, the thing…