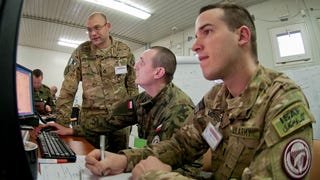 In the age of Reddit and BuzzFeed, it seems like everybody wants to know the secret to making things go viral. Even the military wants to know how to make things go viral, and one research team says they've figured it out—using an algorithm they tested on social networks like Digg and Foursquare. Wait, why does the…
We don't usually geek out to manufactured viral marketing fluff, but trust us, this video is pretty good. The marketing team behind the movie Chronicle flew three human shaped RC planes around NYC to make it look like real people were magically flying. From the ground, it really looked like you were watching a…
Can't get enough of Bruce Lee secret training videos, even if they happen to just be viral ads for Nokia's Lee-themed N95? Me neither! Following last week's
awesome ping pong battle
, here's a new clip where a dude playing the Master of Jeet Kune Do ! []
A couple of weeks ago,
a ten second clip called "Bruce Lee's secret training video,"
featuring someone looking like the famous Kung Fu master completely owning at ping pong with a pair of nunchaku, was uploaded to the Chinese Internet. Now, the entire clip is up and... it's a Nokia ad! For a Bruce Lee version of…
You've probably seen the video above where people put cellphones around popcorn kernels and pop them by making a call. Turns out that it's a slightly disingenuous video by Cardo, a Blutooth headset manufacturer, in order to scare people into thinking that cellphones have that much radiation and they really need a…
Last week's post about a guy absolutely losing his shit in a becubicled office turned out to be a viral ad for Wanted, that new action film with James MacAvoy and Angelina Jolie. I guess the video could be considered a success in that it was convincing and popular, but the fact that it is associated with a…
The Microsoft Zune may pay you for sharing a song with others if they end up buying that song themselves. As you probably know, the Zune's WiFi capability will let you send a song to another Zune user, and then that user can listen to it three times for free within three days, after which a prompt appears asking for…
Another day, another sad attempt by Microsoft for a viral marketing campaigh. Yeah, that I Love Bees campaign worked really well for them, but since then they have a new gig every damn week. This one can be found at www.notfornoobs.com. Which is an interesting domain, to say the least.