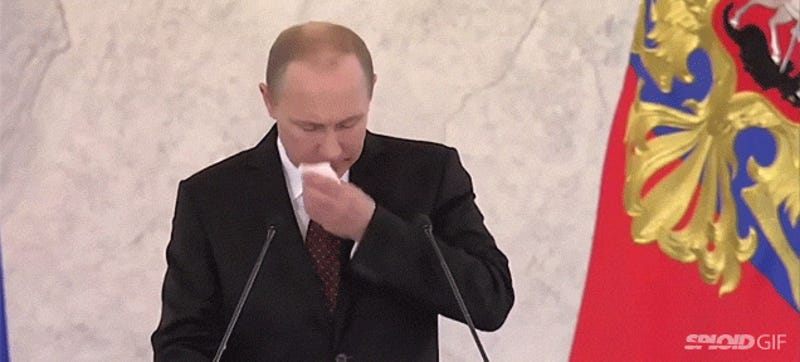 Musicless music videos are always fun to watch so it's no surprise that speechless speeches are just at great. In fact, they might be even funnier since heads of state are the people that they're making fun of. Watch this speechless rendition of Putin done up with perfect sound effects for a few giggles.
Confused about what's been going on between Russia and Ukraine? You're not alone. And that's sort of the point — this conflict serves as a case study in the effectiveness of shadowy, "hybrid" warfare, which is hard to understand from the outside. And the effectiveness of this strategy means it could be the future of…
Russian president Vladimir Putin is saying that Britain and France are responsible for allowing the Nazis to run roughshod around Europe before the war, while saying there was nothing wrong with the USSR's pact with Hitler. It's a pathetic attempt by Putin to abuse history in a way that asserts his authoritarian rule.
A legal website used by attorneys to privately discuss case law is shutting down after 10 years because the owner no longer feels the site's users are protected from government spying. After federal threats led to the closure of several secure email providers, the publisher of Groklaw closed her own operation last…
Edward Snowden can't stay in Moscow's airport forever. The American whistleblower hero needs to get to a safe haven in Bolivia or Iceland or wherever, before he is assassinated by Barack Obama's drones.
Russia and America have been uneasy pals for a while now, but that could all go down the drain in a microwaved hurry: the Rooskies are testing an energy weapon capable of causing extreme pain and mind-control. Russian zombies burning an American flag.
F1 driving. Scuba diving. Cookware bending. Snowmobiling. Plane flying. Climate change researching. Whale hunting. Piano playing. Blacksmithing. Check out The Atlantic's gallery compiling all the nonsense jackassery Russian leader Vladimir Putin has done the past few years. [The Atlantic via Joshua Clements]
Dictators are used to having their manliest poses carved into stone statues, or their most avuncular portrait printed on posters. But one Russian artist is bringing authoritarian iconography into the 21st century by drawing Russia's boss-for-life Vladimir Putin as an ass-kicking character in an online comic book.
When Russia's bad boy Prime Minister Vladimir Putin himself looks irritated with the idea of wearing 3D glasses, it's gotta be time to reconsider that whole trend. [Foreign Policy]