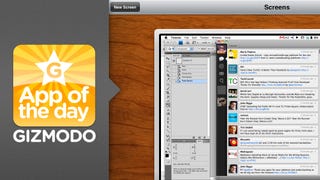 I always asked myself how much I really needed VNC on my iPad, assuming it'd be a huge headache to deal with. Screens, which is a cinch to configure and totally intuitive to operate, pretty much made my objections irrelevant.
What is it?
Screens, iPhone and iPad, $15. A super simple, super pretty VNC client for…
LogMeIn Ignition, an excellent remote access app, is now available in the Android Market for $30. Of the many apps that let us monitor our public domain movie torrents on the go, LogMeIn's long been a Giz favorite.
A second monitor for your Mac, when you're on your Grownup Computer: That's a perfect use for the 1024x768 iPad, and exactly what $5 app iDisplay lets you do. But it needs some work.
A NY laptop-theft victim finally caught the criminal thanks to the use of a remote desktop application he had installed in his computer. However, it wasn't as easy as connecting to the notebook over the internet and locating him: His investigation lasted for almost a month, watching his laptop screen as the thief used…
What do you do when you've got a platform (PS3) that's a fantastic media playback machine but lacks games? You bring games TO IT. StreamMyGame allows you to stream the visuals and sound directly from your PC onto your PS3 at up to 3200x2400 resolution (PS3 only supports 1080p), supporting Windows XP, Vista, and…
This is a piece of software, but it's a fascinating use of the DS' Wi-Fi capabilities. It's essentially a version of VNC that can run on the DS and shows two screens—a larger version of the full PC screen and a zoomed window. The software is completely homebrew and it's called PointyRemote, which could also be the…