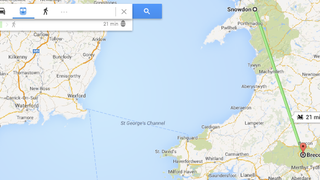 Here's a fun little Google Maps easter egg: ask for directions from Snowdon to the Brecon Beacons in Wales, and it'll estimate travel time by car, bus, foot, plane, bicycle, or... dragon! The journey takes 21 minutes by the country's national emblem apparently, compared to 3 hours 20 minutes by car. [The Next Web]
Marijuna farmers tried it with bears, and now a parks and recreation department in Wales wants to do it with bees: critters as cheap security.
Remember that time you carried that box home and it was like sooo heavy? Yeah, shut up. The quarry where some of Stonehenge's original rocks came from has been discovered, and the people of 5,000 years ago dragged them 160 miles.
A team of Welsh scientists have spent long nights camped out in a busy nightlife neighborhood of Cardiff from 11pm to 3am with one goal-studying the way Welshmen stagger when they're shitfaced in order to build an accurate computer model of the phenomenon. They aim to use their data to help city planners design…