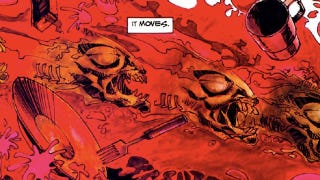 We recently ran an interview with Thor writer Walt Simonson in which he mentions an Alien movie adaptation he worked on for Heavy Metal back in 1979 with Archie Goodwin and John Workman. I'd never read it before, so I looked it up. And guess what? It's an absolute jaw-dropper.
At Comic-Con, io9 had a nice long talk with Walt Simonson, the man responsible for the defining run on The Mighty Thor in the 1980s (indeed, Simonson's tenure on the comic was a big influence on this summer's Thor movie).
We've made our love of Gold Key Twilight Zone comics abundantly clear. The comics' twists were abrupt and frequently deranged. In this deliciously absurd strip from 1973's Twilight Zone 50, a rich old codger buys immortality for approximately 15 minutes.