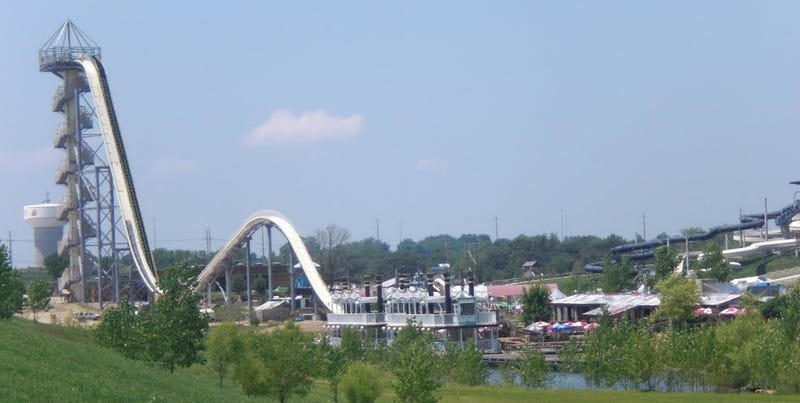 The world's tallest waterslide, located in Schiltterbahn's Kansas City waterpark, opened to the public this Thursday. I had the honor/horror of being part of that public. This is my story.
We've heard a lot about the world's tallest water slide—but now you can watch exactly what it's like to ride the thing as a member of the public.
The world's tallest water slide is located at the Schlitterbahn water park in Kansas City, and also in my nightmares. It's called Verrückt—which means "insane" in German—with good reason: At 168 feet and 7 inches, it's taller than the Statue of Liberty, Niagara Falls, and 23 Shaquille O'Neals stacked on top of each…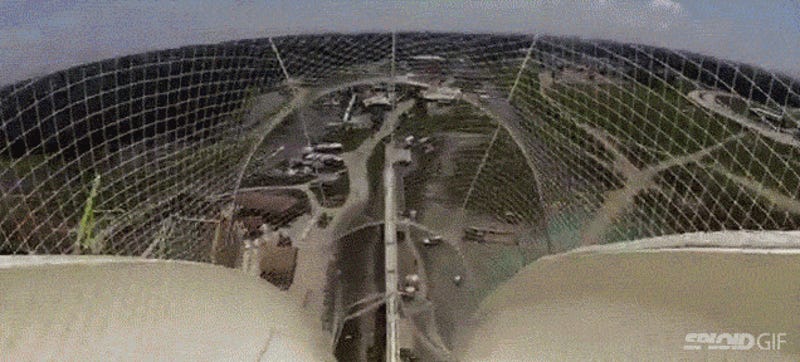 POV footage shows it's a helluva drop so yeah, it's scary. People will pretty much plummet straight down a 168-foot 7-inch tall slide—which makes it the world's tallest water slide—at thigh burning speeds to blast over a massive hill to ride another "mini" 50 feet slide. It doesn't get any sicker than this.
Either that or there's going to be a lot of squished people needing to be scraped off the tiles at the deep end. Currently under construction at the Schlitterbahn park in Kansas City, the Meg-a-Blaster slide will open in Spring 2014, dropping people from nearly 140 feet up.
Wherever you are on this hellspawn sauna our planet has become today, I guarantee that you'd rather be about halfway down the world's sickest, slickest water slide, toes pointed straight at the Mediterranean. Even worse: you could be there. Right now.
Though still not nearly as exciting as going over a waterfall in a barrel (well, The Insano maybe), our friends at Oobject have compiled 12 excellent examples of these slippery slopes.
Amusement Park, Taiwan
Somehow, this achieves the effect of tilt shift without it being so.
Atlantis Resort, Bahamas 90 feet, straight down. Backyard waterslide simulator Big drop, Oakwood Lake - Manteca, CA Down the drain, Calypso Park, Ontario Gleneig, Adelaide, Australia Great Wolf Lodge Leo Lafleur,…
This luxury villa isn't grand architecture. It's not made of titanium. And it's not even underground. But it's the first home in the world with a 256-foot-long double loop water slide going from its top balcony to the pool.
Click to viewThis video shows a crazy man launching himself off an epically-large water slide and landing perfectly in a kiddie pool very far away from it. Is it fake? I suspect so, but I really want it to be real.
In a world filled with crazy sink designs, the Abisko sink from Eumar just might be the craziest. Seriously, I want to ride this thing.
You know a marketing exec with a fiercely long commute at UK-based credit card provider Barclaycard must have been daydreaming one day about being whisked back home by a water slide. If I didn't sit at home working in my underwear this would be my dream too. [
Barclaycard
via ]