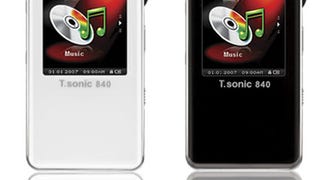 In a world of complex do-it-all gadgets, the T.sonic 840 might seem a little bland. It's a fairly basic digital audio player, supporting everything you'd expect in the audio (MP3, WMA, WAV, WMA-DRM10) and visual (JPG, BMP) departments. But it is the simple yet functional approach that allows Transcend's latest gadget…
Still interested in that
low-end speaker-enabled Creative Zen Wav
even though its features are only mediocre at best? Then check out this video of it playing back Enya's greatest hits. Although in our opinion, her old stuff was a lot better. She totally sold out man. Sold OUT.
Remember that leaked Zen Wav we told you about? It's official. Officially meh, that is.
Just when we thought the Creative Zen Stone was the only thing they had up their sleeves, Creative's gone and released a Zen Wav in Singapore (their home country). The device looks like a Nano competitor with a set of integrated speakers, 2GB storage, FM radio, voice recording, and a photo/video playback mode.
The iKey Plus, an upgrade of the iKey, seems great for people who want to take a stab at digital recording, be they bootleggers at a concert or disgruntled employees looking for evidence in their sexual harassment suit against their company. The device can record to any USB drive, and stores files in MP3 or WAV…