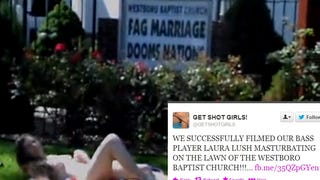 Get Shot!, a California punk band that bills itself as "the sleaziest punk band in the world" and "the first band ever to start a porn site," is particularly proud of its latest release: A porn "film" shot entirely on the front lawn of the Westboro Baptist Church.
The lunatic power-bigots at the WBC are down another Twitter account—and this time it belongs to its leader's son, Fred Phelps Jr. What's more surprising is that Cosmo the God—yep, that one—is claiming responsibility.
We've previously reported the lunatic Westboro Baptist Church's bizarre new War on Nerds—now the nerds have turned and staged a staggeringly weird counter-protest at this year's Comic-Con.