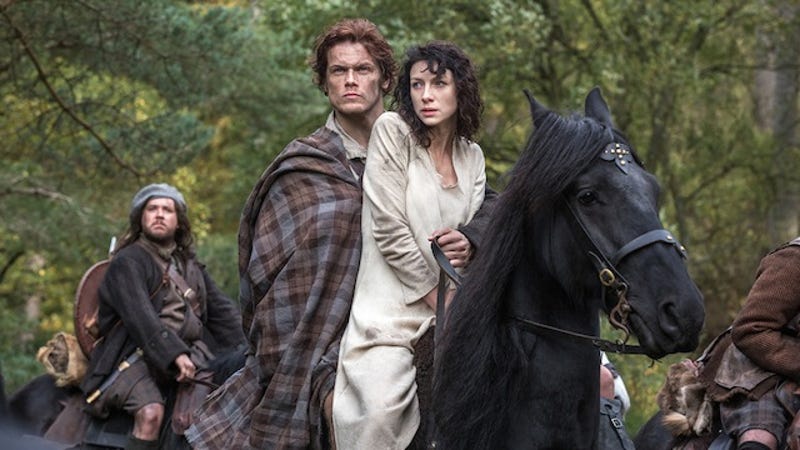 Battlestar Galactica producer Ronald D. Moore returns to television this week with his adaptation of the hit Outlander novels—and you won't want to miss it. Plus, True Blood goes on a drug-fueled search for a dead character, Teen Wolf deals with a mysterious outbreak, and someone is targeting the Candy Kingdom elite…
While childhood secrets are revealed on this week's Masters of Sex, another behind-the-scenes science drama debuts on Sunday: Manhattan, which takes us inside the secret city that helped create the atomic bomb. Plus, Phineas & Ferb takes on Star Wars—and it's bound to be goofy. See all the details below!
Watch the first ten minutes of the new series The Lottery, about a battle to control embryos fertilized during a global fertility crisis. Also, one of Jake's kids takes charge on Adventure Time, The Leftovers enjoys a post-Rapture Christmas, and things get more dire on The Strain. Check out the details below!
We've got two big TV premieres this week: Halle Berry gets mysterious pregnant on a solo space mission in Extant and Guillermo del Toro brings his vampire contagion to TV with The Strain. Plus, Hemlock Grove, Mythbusters, and Masters of Sex are all back for their fresh new seasons. Summer TV is in full swing!
Game of Thrones has ended for the season, but summer television is starting to heat up. This week, we see the return of Defiance and True Blood, as well as the premiere of the angel-human war on the new show Dominion. Plus, what will Orphan Black reveal in its season finale? Check out the latest clips and details.
Cosmos' Ship of Imagination sails into the sunset (or is it just the sun?) this week, but not before plumbing the mysteries of dark matter. Finn gives dating another try on Adventure Time, Increase Mather rocks Salem, and a new character in Orphan Black's conspiracy appears. See all the details and clips below!