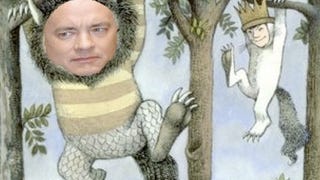 We caught up with Wild Things producer Tom Hanks on the carpet last night for the big premiere, to chat about wild rumpusing — and learned that there's more than one new plaything appearing in the third Toy Story movie.
In honor of the Where the Wild Things Are movie, designer Christian Joy, the man behind Karen O's wardrobe, created five one-of-a-kind costumes based on Maurice Sendak's book. Now you can not only pretend you're Max, you can also sparkle.
If you had any doubts that Spike Jonze's monsters with a childlike outlook on life would make you melt into a puddle of tears, the latest trailer should seal the deal.