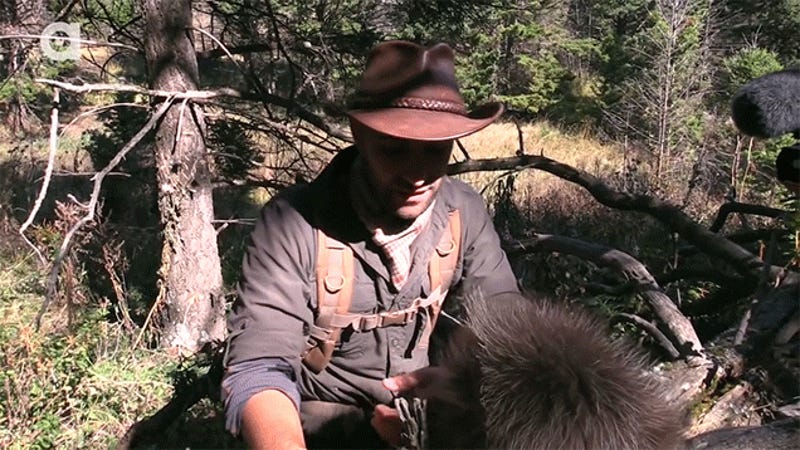 It's never happened to me but after watching Coyote Peterson show people what it's like to get quilled by a porcupine, I can tell you that it hurts like freaking hell. Dozens of those little daggers spiked themselves into his hand and a few were lodged pretty damn deep. Coyote Peterson got himself quilled for Brave…
Nicholas Roemmelt's photography is enough to make any person whose day job involves a computer and a desk question his or her life choices. In addition to shooting just plain stunning photos of nature, he sometimes makes us extra envious of his adventures by adding himself or his wife to a jaw-droppingly beautiful…
These utterly gorgeous posters don't celebrate Star Wars or other classic films the way some of our favorite Olly Moss posters have. But they're still incredibly beautiful and will fill you with a love of the great outdoors. And they're on sale for four days.
When shopping for that special someone who loves the great outdoors, it's easy to be overwhelmed. There are so many companies and so many items with so many different features that it's hard to know where to start. That's why we thought we'd kickstart this party with some of our favorite camping gear. We hope H.D.…
Over Thanksgiving 2006, James Kim, a CNET editor, disappeared along with his wife, Kati, and their two young daughters in the snowy Oregon wilderness. Kati and her two children survived; James did not. She recently recounted her experience for the first time to 20/20, detailing the family's encounter with bears and…
A Wired writer wanted to test just how effectively the Spot GPS Messenger could save his life. So, in the dark of night, he walked for 8 aimless hours into Tahoe National Forest. Then he pressed Spot's emergency button.
As we mourn the death of C|Net journalist James Kim, we want to do whatever we can to prevent such tragedies. There are lots of ways to improve your odds when you get lost in the wilderness, stranded in your car, or are somehow thrust out of this comfy cocoon in which most of us are living. So we put together a list…