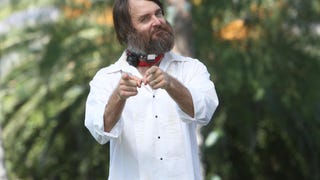 Every once in a while, The Last Man on Earth breaks you. The show works its magic and turns the audience into a frustrated member of the cast. That happened this week as Will Forte's Tandy continually, and hilariously, repeated the same phrase over and over: "I did the crime, now I gotta do the time."
The Last Man on Earth launched this week, sparking a national discussion on the psychological link between isolationism and self-destruction, along with toilet pools and incest. We took our questions straight to series producers and directors (the Lego Movie guys), Phil Lord and Chris Miller. Spoilers ahead...
Everybody's buzzing about the new comedy album 2776, which is chock full of famous comedians and personalities, riffing about the future and science-fictional stuff. Almost everybody you love is on this album — but perhaps surprisingly, the clear standout is NPR's Nina Totenberg's a capella rock opera.