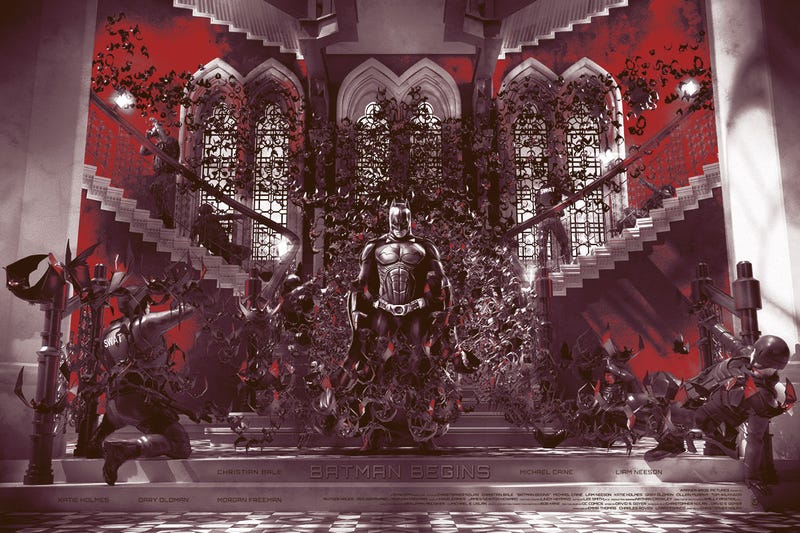 Hundreds of bats fly to Batman's aid as he valiantly tries to save his love from a deadly poison. The two escape in a rooftop Batmobile car chase and the rest is history. This moment from Christopher Nolan's Batman Begins is a moment I never want to forget. And now, thanks to a new art show, I'll never have to.
David Heyman, the producer of the Harry Potter film series—including upcoming spin-off Fantastic Beasts and Where to Find Them—has a new fantasy franchise in his sights. Warner Bros. has just secured the rights to all things Willy Wonka from Roald Dahl's estate, and is teaming with Heyman to make a prequel about the…
Now that the mouse is converting big chunks of Disneyland and Disney World to ever-profitable Star Wars attractions, the theme park arms race is at all an all-time high. But who wants to drink blue milk at a Star Wars-themed cantina when Universal Studios is building Willy Wonka's freakin' Chocolate Factory.
Even after crossing the Styx, Apple co-founder and organic chocolate aficionado Steve Jobs keeps surprising us with the most amazing ideas. Get a load of this: Steve wanted to be Willy Wonka. Like, become him for real, for a day. No joke.
What happens when you slow down Gene Wilder's manic Willy Wonka patter and set it to a beat? Parody songwriter SrslySirius takes Wonka's dressing down of Grandpa Joe and Charlie Bucket and transforms it into a catchy remix. [via Neatorama]
Click to viewWhere does that Apple magic come from? Why, a magical factory, of course, a world of pure imagination. And this hilarious video gives us the golden ticket to tour inside. Fanboys, get those hackles up! [College Humor]
We're over the moon with the news that genre movie legend Christopher Lee has been Knighted. The 87-year-old, and world's greatest Dracula, has appeared in over 250 films stretching over 61 years. Congratulations. [USA Today]
A juicy virtual steak convinces Cypher to betray Morpheus, Trinity and Neo in maybe the most famous non-bullet-y scene from The Matrix. When you start paying attention, you notice how important food is in science fiction, whether it's dehydrated Pizza Hut, orgasm inducing desserts or fish biscuits. Even condiments get…