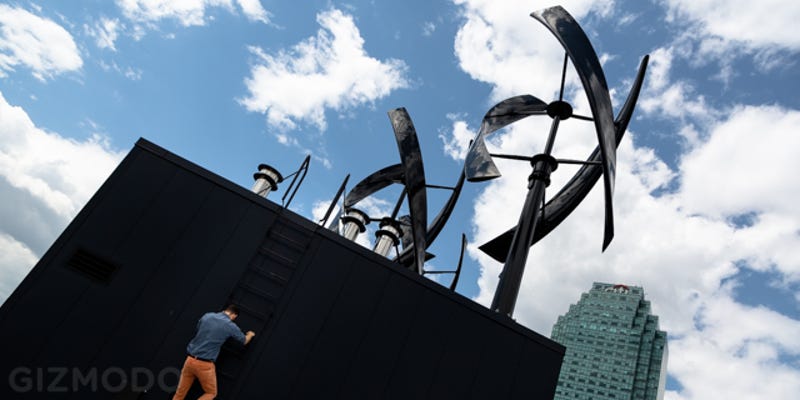 According to the New York Times, wind turbines are all the rage in New York City. We decided to find out for ourselves what all the buzz—or whoosh?—was about. So we met with wind turbine maker UGE and its mechanical engineer, Darius Salgo, who was kind enough to show us around the newly-installed wind turbines on top…
It's not often that we get to talk about engineering and knitting in the same sentence. But Merel Karhof, a Dutch-by-way-of-London designer, is an expert in both.
Opponents of windmills cite the dangers the spinning blades post to birds, the risk of damage due to storms, and the maintenance required to keep all those moving parts running smoothly. But what if a windmill lacked blades and didn't move at all? That's the idea behind the Delft University of Technology's EWICON…
Collage artist Sam Van Olffen takes the Holland's most iconic features — its windmills, its tulips, its bicycles, and Amsterdam's Red Light District — and meshes them with dieselpunk elements to create strange, overstuffed scenes of the Netherlands' unlikely future.
If you're a fan of both Lego and renewable energy, you're gonna love the new Vestas Windmill set from Lego. It stands at over two feet tall, has a motor that rotates the windmill around on its own, and is pretty awesome looking. Unfortunately, there's no way to rig a bunch of these together in your yard to help power…
Harnessing energy from the wind is getting serious, and Arrow Vironoment takes it to the next level with Architectural Wind, a relatively small 6.5-foot, 60-pound turbine it rolled out at Wired's Nextfest last week. It's designed to mount on the top edge of a building, taking advantage of the unique aerodynamics of…
Windmills make a lot of sense, giving us free energy that's all around us. But what happens when it's not windy? Build the windmills up high, very high—we're talking between 15,000 and 35,000 feet high, where powerful jet stream winds blow pretty much all the time. Worldchanging describes how to accomplish this with…