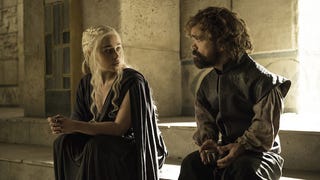 To say that George R. R. Martin's Winds of Winter is very, very highly anticipated is putting it very, very mildly—so any micro-crumb of information regarding a release date is going to attract attention. Today's pulse-quickening clue comes courtesy of Amazon's French site, which has a release date for the book listed.

When Game of Thrones returned for its sixth season, House Martell and Dorne's plot... well, it certainly went some places, didn't it? Well, in the next installment of George R.R. Martin's A Song of Ice and Fire novels, the Martells are also preparing to strike, as you can read thanks to this newly released excerpt…
George R.R. Martin is setting aside all other writing work until he finishes The Winds of Winter, the infinitely anticipated next installment of A Song of Ice and Fire. The author announced this on his blog in the comments of this post. There's still no ETA on when the book might be done, but he's definitely buckling…
Although we may not be getting Winds of Winter this year, George R. R. Martin has made up for it a little bit with a huge new excerpt: An entire chapter revolving around one of our favorite characters, being fantastic in the Vale of Arryn. Of course, Spoilers for A Dance With Dragons onwards...
Guys. GUYS. George R, R, Martin has just released a full new chapter from the upcoming sixth volume in A Song of Fire and Ice, and man... I can't even begin to summarize it without spoiling something, but I will say it's titled "Mercy," it's set in Braavos, and it begins like this: