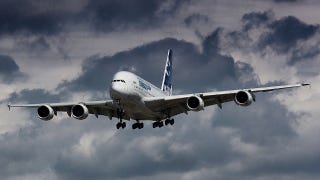 For anyone with a child, that bond you feel with your offspring is the most powerful in nature. And your protective instincts demand the absolute best in child safety, like this $4,000 Wing Man baby seat prototype. It's constructed of strong, lightweight carbon fiber—the same material used in performance cars and…
The
Nyko Wing
is a high quality alternative to the Wii's barebones Classic Controller, syncing with the Wiimote wirelessly, playing 30 hours on a pair of AAAs and offering a mini USB option for charging. We liked the Wing , and now it's available to the public for $30. That price is higher than Nintendo's offerings,…
Earlier today,
Nyko unveiled the Wing
, a wireless controller for the Wii, based on Nintendo's own classic controller. Aside from the whole no wires thing, they've put their own spin on the accessory by tweaking the ergonomics, incorporating a battery charger, and adjusting the button spacing. After spending a bit of…
Scale is everything: We knew iriver's Wing touchscreen UMPC was seriously compact, but didn't know just how small it was. It's still a complete prototype—you're looking at dumb plastic, and the top half even sorta fell off the hinge—but we convinced them to pull it out of the glass case so we could do a quick…
Is this RAM Wing 100 yacht by Levi Designs a catamaran or a monohull? It's both, starting out in front is a catamaran and ending up as a monohull in the stern. The most remarkable aspect of this design concept is its tremendous speed, 100 knots with a range of 2000 nautical miles. That's not bad for a giant 328-foot…
As if it wasn't cool enough already to be an Apache pilot, these pictures arrive to make us even more envious. If an Apache is nearby a rescue situation then they will sometimes try to lend a hand—even though they only have two seats. The lucky/unlucky copilot has to step outside and sit on the wing stub, to make room…
T-Mobile customers have waited a long time for an upgrade to the trusty MDA, its only Windows Mobile Pocket PC phone—and only Windows Mobile phone with a keyboard other than the Dash—but all that patience is about to pay off.