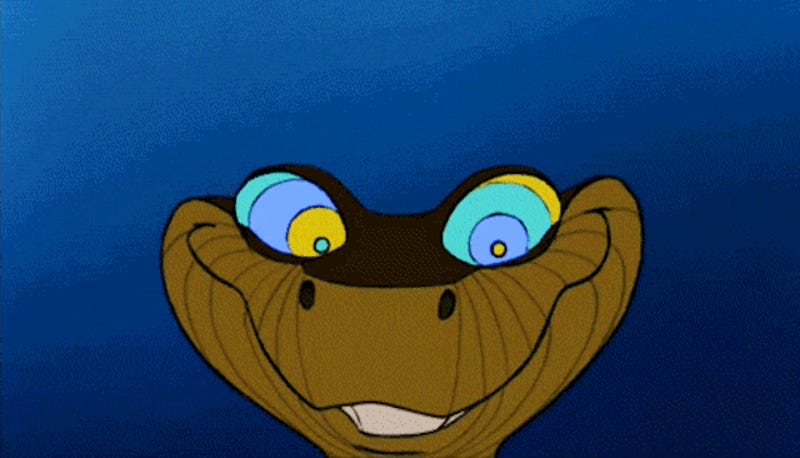 There's been a deluge of live-action adaptations of classic animated films lately. Some have been pretty great, some have been flawed... and some have been best forgotten. But there's still a slew of them on the horizon. Here's our ranking of the upcoming live-action adaptations, according to which is most doomed.
From Giant Hamburger, creator of The Poohing (the only A.A. Milne-meets-Kubrick mash-up we will ever need), comes Alien Versus Pooh, another hand-drawn reimagining that somehow manages to make chestbursters the most adorable (yet still terrifying!) thing on this or any planet. Go here to read it!
Jim Cummings, voice of Disney's Winnie the Pooh, was at Connecticon last weekend, where he performed the scene of Darth Vader boarding Princess Leia's ship from the beginning of Star Wars... in the voice of a certain tubby little cubby all stuffed with fluff. The results were, predictably, glorious.
We all know Winnie the Pooh as a beloved children's book character, a Disney icon and, of course, a honey fetishist. But the "willy nilly silly old bear" and his friends have made three recent incursions into nerd-dom that may indicate a more concerted effort by the denizens of Hundred Acre Wood to take over every…
The Doctor has stripes now. Stripes are cool. Likely inspired by this Tigger in the Tardis tee, the confectionary wizards at Nerdache Cakes devised this darling sugary treat. It's Piglet's homespun Dalek outfit that really sells the sweetness, though.
Ever wonder what Calvin and Hobbes would look like as adults? One particularly inspired vision pits Christopher Robin and his friendly bear against our favorite comic-strip characters, in an eternal battle between good and evil. Take a look at the evil Dr. Christopher Robin and his nefarious Pooh creature, versus the…
This is a smart idea from Buffalo: USB memory sticks that your kids can stick in your computer without causing wanton destruction to the files inside — or your reputation when they inadvertently download your skinflicks onto a memory stick and present Belladonna's tattoos to their nonplussed classmates. Gallery and…