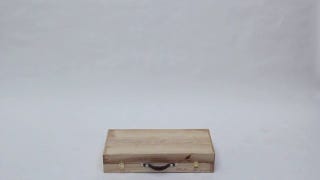 If you're always on the move but like to have a real desk to work at, maybe designer Tyrone Stoddart's BOXED project is for you: a suitcase that contains an entire collapsable workstation.
For the final leg of our tour, Neistat brings us into his studio within a studio, where work and play collide. From a old-timey fire extinguisher, to a foldaway speed-bag, the miscellany extends from floor to ceiling, reflecting the same personality that comes across in Neistat's movies.
Sometimes its hard to keep your desk clean and tidy. Turns out, men seem to find it a bigger problem, because a recent study suggests that men have far, far dirtier desks than women.
This is the Kororodesku, a diorama-like workspace designed by Tokyo-based Torafu Architects, that is one part desk, one part office cubicle, and entirely charming. Its plywood frame can be purchased with an interior polyester veneer in any one of over 1,000 different colors, making the Kororo desk an irresistible…
Essentially, AWE is a programmable wall with varied displays that can switch between six configurations just by activating a proximity sensor. For example, when the wall is hanging overhead like a ceiling, the act of standing up triggers the sensor and instructs the wall to move out of the way. The project is in it's…
It's officially spring, making it the time for spring cleaning. This week, we're doing a photo contest instead of a Photoshop contest. We want to see your disastrously messy desks.