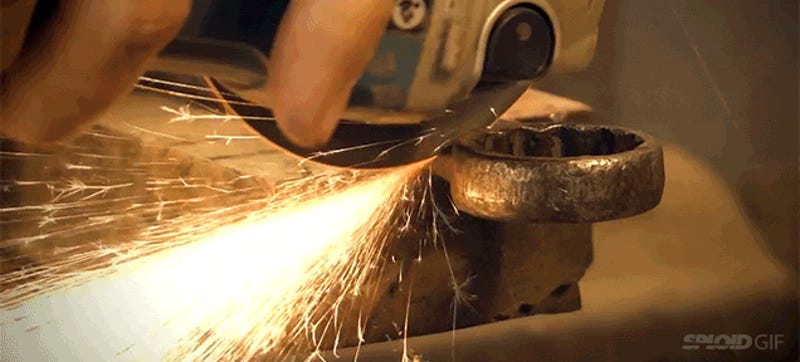 One of my favorite things in the world is to watch blacksmiths take old tools like shovels or circular blade saws or in this case, an old wrench, and then repurpose them into beautiful knives. This particular work from Trollskyy is especially cool because the blade just bleeds into the wrench.
The makers of this necklace say it's a "Honeycomb pendant with cord." But we all know what we're looking at: a set of four wrenches that hangs around your neck. It fits 8, 10, 12, and 14mm bolts. And in my opinion, $55 for a set of four wrenches and a necklace is a pretty good bargain. [Blend Creations]
In the future, I would hope that robots (or my kids...or my robot kids) would be doing all my manual labor for me. But in the meantime, I have this liquid core wrench from ThinkGeek.
We're aware that most of you Gizmodo readers are blessed with Herculean strength, so here's something just for you: the GearWrench Electronic Torque Wrench, a techno-tool that will keep you from stripping bolts by telling you exactly how hard you're torquing them down. This would go well with those bionic gloves of…
If you're always looking to loosen bolts wherever you go, but hate that bulky wrench-pocket look, here's the credit-card sized wrench substitute from the UK. Easy to carry and easy to use (sort of), the card works on metric sizes ranging from M6 to M14. Does that mean it won't work on bolts in the US? If anything,…
Gearheads and grease monkeys everywhere are raving about The Bionic Wrench, a tool that grips a nut or bolt on all six sides, giving you leverage and strength you never knew you had. That means you have 10 to 30 times more contact area than garden-variety wrenches. Plus, the equal pressure on each side of the bolt…