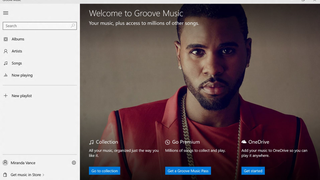 Mientras Apple Music se bate contra Spotify, Microsoft ha decidido darle una mano de pintura a su servicio Xbox Music, y lo primero que ha hecho ha sido cambiarle de nombre. El servicio musical sigue siendo el mismo, pero ahora se llama Groove Music.
When it launched last year, Xbox Music was trapped in a Microsoft-only bubble. Starting today, Xbox Music will expand its reach to hundreds of millions of mobile users with Android and iOS apps. And that's just a piece of the update it's getting leading up to the new app for Xbox One. Here's what you can expect from…
Se esperaba de forma inminente, pero la versión web de Xbox Music, el servicio con el que Microsoft quiere competir con Spotify o Pandora, ya está disponible. Lo puedes probar aquí. La compañía ofrece de momento un mes de prueba gratis, luego el servicio pasaría a costar 9,99 euros/dólares al mes o 99,90…
No word yet on whether or not Xbox Music is breaking out of its Windows 8 prison and turning into a web-app, but it now has a free, ad-supported radio feature where you can start a station based on a specific artist. You know, like Pandora.
According to The Verge, Microsoft's Xbox Music service will launch in the form of a web-based version accessible across platforms next week. That would make sense given that Microsoft's Build developer shebang happens, uh, tomorrow. Maybe more importantly, move makes sense given the big Xbox push the company is set…
We've known that Microsoft has been working on a music service for a while now, and we finally got a chance to check it out first hand. Xbox Music is exactly what you'd want in a streaming service and store. It's complete in a way that Spotify, Amazon, and even iTunes aren't. Microsoft's new music platform is…