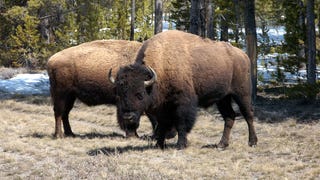 Taking selfies with wild animals is utterly moronic, and yet that fact isn't dissuading Yellowstone tourists from trying to snap smiling vacation photos alongside bison. On Tuesday, a 43-year-old Mississippian woman attempting this misguided stunt was charged by the angry animal and tossed in the air before escaping.

If you're going to roundly ignore the ban on drones in America's national parks, then indeed you deserve to lose your toy in the murky, 160-degree depths of a hot spring. This past weekend, a tourist crashed a drone right into Yellowstone's iconic Grand Prismatic Spring.
You must watch this fascinating four-minute video on the effects of the re-introduction of wolves in Yellowstone National Park. Not only they affected the entire live of the park—increasing the number of species in it!—but actually changed the geography of the park itself, affecting the rivers in a way that…
The good news: scientists have discovered that "the Yellowstone super-volcano is a little less super than previously thought." The bad news: the Yellowstone super-volcano is "more active than previously thought." That means eruptions are more frequent. So the next one is likely closer than previously predicted. Gulp.
Thanks to new measuring techniques, geophysicists have discovered that the underground plume that feeds Yellowstone's Supervolcano is much, much larger than we thought. What was once assumed to be an already large 150 miles long is now a gigantic 400 miles pool of molten rocks and hot briny water for the Volcano to…