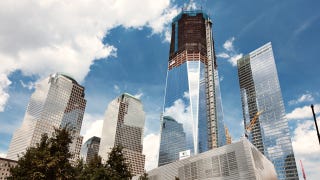 After six years of construction, One World Trade Center will surpass the 1250-foot Empire State Building as the tallest in New York this afternoon. When construction is finished, the final height of the building will be 1368 feet, with the antenna spire pushing the edifice to the patriotic height of 1776 feet. [NY…
Phone numbers are intangible, frivolous things. No one in their right mind would collect them, right? Wrong. Meet Dennis Mykytyn, the man who purchased 100 coveted phone numbers with 212 area codes for $30 a pop in 2007. Yes, this guy spent $3,000 on phone numbers.
When Lodsys started targeting iOS developers, it probably wasn't looking for the kinds of fights it's been running into. A few days after Apple came to the aid of its devs, word comes that the New York Times and OpinionLabs are counter-troll-suing as well.
We all thought the New York Times' paywall was a bit harebrained when we first heard about it. But a surprising (and profitable) side effect of it has been an uptick in print subscriptions since it went into effect. It makes sense if you think about it, since you're no longer paying for something you can get for free…
A New York judge who jailed all 46 people in his courtroom after someone's mobile phone went off has lost his job. The chairman of the State Commission on Judicial Conduct has recommended that Judge Robert Restaino be removed from the bench, three years after the incident, which was described as "two hours of…
Remember Lucky and Flo, the two chemical-sniffing Labradors awarded medals by the Malaysian authorities for helping in the fight against DVD piracy? Well, they're now back in the US doing the same to US pirates. Find out whose round objects they've been sniffing now.

Nope, these olive-green Converse standing outside an Apple store in NYC don't belong to John Dvorak. They belong to a guy called Johnny Vulkan who has flown over from London and is currently in pole position to grab the first iPhone from the Soho branch on Friday. And it's all for a good cause...
A Williamsburg tattooist, Scott Campbell, has come up with half a dozen designs that you can have lasered onto your laptop for $200. If you up the price by $100 he'll etch your own design onto your machine, just like he did above, for Brooklyn-based artist Kaws. If these take off, perhaps Apple will change their ad…