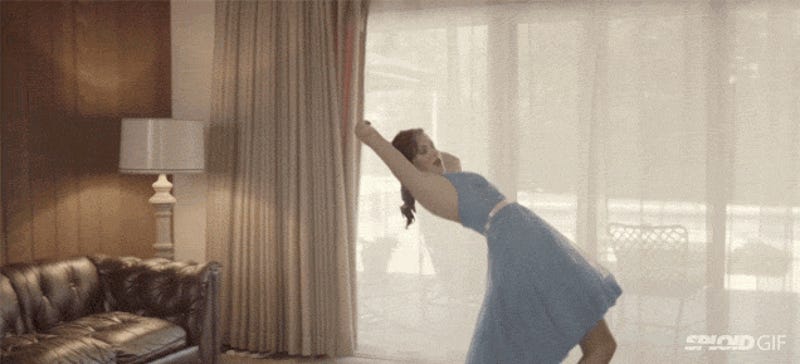 Here's the music video for She & Him's song Stay Awhile. It's a lovely stroll that follows Zooey Deschanel dancing around with an invisible person inside a bedroom, a living room and the clouds. Dancing alone is always the best since no one is watching but dancing with an invisible person looks even better.
Some of us would probably prefer for all of Apple's Siri ads to feature Zooey Deschanel asking inane questions. But Zooey/Siri jokes are getting a little tired—and the Samuel L. Jackson ones never caught on. Luckily, two new Siri spots aired this evening, both featuring the inimitable John Malkovich.
One morning, Zooey Deschanel, the actress, woke up. She had dreamt she was Empress Joséphine, but it was just a dream, like all other dreams. She was a little cranky. So she turned to her one true friend—Siri, QT!

Fearless leader of quirky girls everywhere Zooey Deschanel is now in her own celebrity Siri commercial for Sprint, and it's exactly the 30-second I'm-just-a-homebody-who-wears-matching-pajama-sets-and-collects-sheet-music extravaganza you'd expect it to be.
At NYCC we dubbed Danny McBride's wonderfully raunchy Your Highness the next Army of Darkness. Now you can be the judge: Watch the red-band trailer, filled with weed-smoking muppets, magic, and Natalie Portman in a golden thong.
When people start shoving huge ponytail holder needles into their own necks, and dive-bombing themselves off skyscrapers, then it's probably safe to assume that something is "Happening." In this new trailer for M. Night Shyamalan's newest film The Happening, that's just what happens. People start committing mass…