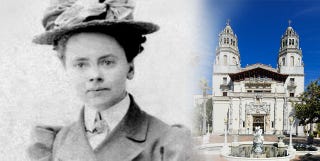 How is this possible? The American Institute of Architects, the largest and most influential architecture organization in the country, had never, ever awarded a Gold Medal—its highest honor, which it has been bestowing upon architects since 1907—to a woman. Until now.
I only really have one question here.
What took so long?
The woman in question is no doubt worthy: Julia Morgan was the first female architect licensed in California and had a long and influential career, designing over 700 buildings. She is best known as the designer of Hearst Castle, collaborating for 28 years with the mercurial William Randolph Hearst.
Hearst with Morgan at the site of La Cuesta Encantada, better known as Hearst Castle, in 1926, photo by Irvin Willat
But she also designed dozens of YWCAs in California, including the the Asilomar conference center near Monterey; many private homes; and the gorgeous (and currently vacant) Los Angeles Examiner Building in downtown L.A. She majored in civil engineering at Berkeley and was an early expert in reinforced concrete construction methods, which came in especially handy after the 1906 San Francisco earthquake.
The Oakland YWCA, designed by Morgan in 1915, photo by Sanfranman59
It was a female AIA board member, Julia Dohono, who nominated Morgan after realizing the Gold Medal had never gone to a woman. She nominated Morgan because she felt that the organization needed to go back and recognize Gold Medal-quality women who were "overlooked," she tells Karrie Jacobs in Architect.
But this sentiment has not been particularly well-recieved by the architecture community, many of whom perceive the move as "too little, too late." Over at Metropolis, Martin Pedersen says that what may have been an attempt at a political statement simply came off as tasteless: "The award felt less like the honor it is, or was, and more like a backhanded compliment from a socially awkward but well-meaning relative."
But why did it take so long?
One could argue that there were fewer women in the field until a few decades ago, and you'd be right—up to a point. Morgan was the first woman to attend the prestigious École des Beaux-Arts, an influential French school that trained many architects at the time. But that excuse quickly becomes invalid. The AIGA—a similar professional association for graphic designers which has been around almost as long as the AIA—first gave its medal to a woman in 1967, and has since honored 24 more. It is obvious in recent years that they've made a great effort to correct their oversight.
Denise Scott Brown outside Las Vegas in 1966; photograph from the Archives of Robert Venturi and Denise Scott Brown by Frank Hanswijk
When the AIA revised its rules this past summer so that a duo, not just a single practitioner, could win a Gold Medal together, everyone assumed that the organization was prepping its own heroic response to a media firestorm about another architecture award, the international Pritzker Prize. Last spring, Harvard architecture students had just launched a petition demanding that Denise Scott Brown, wife and architectural partner of 1991 Pritzker winner Robert Venturi, also be acknowledged by the Pritzker jury, retroactively. The Pritzker committee said no.
The AIA's new "duo" rule goes into effect January 1, and I think this means that next year the AIA will honor Venturi (who has never received the Gold Medal) and Scott Brown together, somewhat righting the Pritzker's wrong. Yet even the Pritzker—which, yes, has different criteria, but has honored many of the same American architects—has given its prize to women twice: Zaha Hadid in 2004, and the female half of the duo SANAA, Kazuyo Sejima, in 2011.