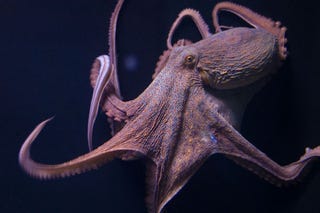 To look for aliens, most people peer towards the sky. But if you look down, you'll discover they already live among us. These aliens have brains, like we do, but they're mostly inside their arms, and each arm acts as if it has a mind of its own.
I'm speaking, of course, of the octopus. This tentacled beast – along with its cephalopod relatives, the squid and cuttlefish – are some of the strangest, most alien creatures on our planet.
Scientists have a hard enough time getting into the minds of our nearest relatives, the apes and monkeys, let alone more distantly related mammals like dolphins or elephants. Octopuses? Forget about it. Our last common ancestor with the octopus was probably around 800 million years ago. So while we know they are capable of squeezing through holes the size of an inch, opening jars, and disguising themselves, there's a great deal that mystifies us about how and why the octopus could develop a brain unlike that of almost any other intelligent creature.
Even the size of their brains is a matter of debate: estimates range from 100-500 million brain cells, depending on the species in question and who you ask. But everyone agrees that more than half of them are found within its eight arms. Humans, by contrast have some 85 billion neurons, most of which are inside our skulls.
Each octopus arm contains some 40 million receptors, mostly along the rims of each sucker, which the octopus uses both for touch, as well as for detecting chemicals in a similar manner to our senses of taste and smell. Imagine what it would be like if the majority of your body were made of tongues, able to both touch and taste the entire world, and you might come a step closer to understanding life as an octopus.
As well as that, octopus skin is also studded with pigment-containing chromatophores, which the octopus can control to change its appearance. Aristotle noticed this thousands of years ago, writing: "it seeks its prey by so changing its colour as to render it like the colour of the stones adjacent to it." Aristotle also wrote "the octopus is a stupid creature," so he was only half right.
Each octopus arm acts as if it has a mind of its own, with its own intentions. Amputate one in a laboratory (octopuses can regenerate lost limbs, so this procedure is far less gruesome than it may seem), and it will continue to respond for an hour. It can crawl away, if it wants to. Or it can use its suckers to hold onto preferred objects, or to push repulsive ones away. And yet, despite eight independently operating arms, an octopus somehow manages not to tie itself into knots. How it manages to do this recently attracted the interest of Hebrew University neurobiologist Nir Nesher, and colleagues.
They found that suckers automatically reject octopus arms, which explains how they avoid becoming a tangled mess. That said, octopuses sometimes eat each other, which means they don't always avoid octopus arms. How come? Nesher found that octopuses were able to distinguish their own amputated arms from arms that had been detached from other octopuses. So while it makes sense for octopus arms to avoid latching onto other octopus arms in general, it also makes sense for an octopus to sometimes ignore that rule, if it means enjoying a tasty meal. It also reveals at least a basic sort of self-recognition: octopus arms are okay to eat unless they're your own.