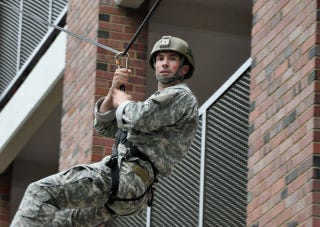 A shiny new city recently opened in northern Virginia's Caroline County. It has a school, a church, a mosque, a subway station, and even an embassy that, at five stories, may be the county's tallest building. But nobody lives there.
That's because the 300-acre complex at Fort A.P. Hill is the U.S. military's newest $90.1 million training center. Run by the Asymmetric Warfare Group, a special mission originally formed in 2006 to deal with IEDs, the fake town will help train soldiers in the unique challenges of urban warfare. It will "replicate complex operational environments," in the army's own words.
In the emerging world of 21st century conflict, the battlefield is no longer the countryside but the city. At this new Asymmetric Warfare Training Center (AWTC), soldiers can train to crawl through small spaces like ceiling ducts and even maneuver across subway platforms.