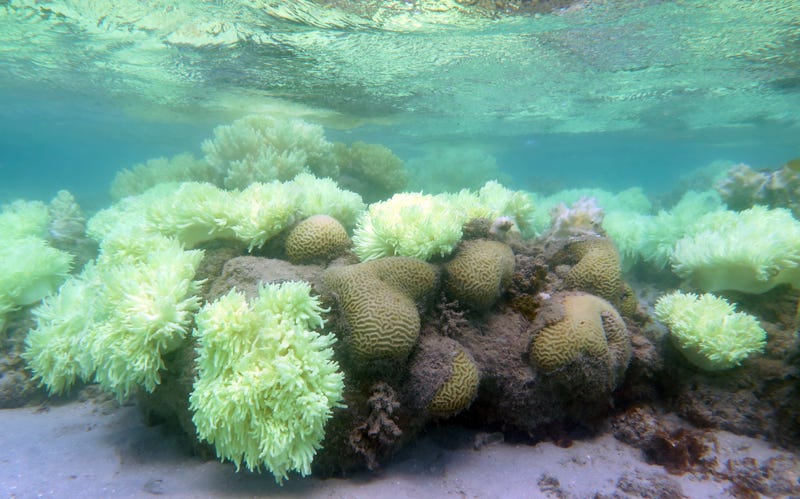 It's no secret that the Great Barrier Reef is in the midst of a mass die-off, nor that scientists believe the coral bleaching event is related to climate change. But apparently, Australia couldn't bear the thought of putting these inconvenient facts together on paper. The country's Department of Environment censored a major global climate report just before publication this week.

The report, "World Heritage and Tourism in a Changing Climate" was a joint collaboration between Unesco, the UN environment program, and the Union of Concerned Scientists. Given that Australia is home to some of the most celebrated World Heritage sites on the planet—including the Great Barrier Reef and Tasmania's old growth rainforests—you might expect some mention of how these ecosystems are faring in a changing climate. Oddly enough, Australia is mentioned nowhere in the entire document.
A Guardian Australia investigation published yesterday explains why:
But when the Australian Department of Environment saw a draft of the report, it objected, and every mention of Australia was removed by Unesco. Will Steffen, one of the scientific reviewers of the axed section on the reef, said Australia's move was reminiscent of "the old Soviet Union".

No sections about any other country were removed from the report. The removals left Australia as the only inhabited continent on the planet with no mentions.

Explaining the decision to object to the report, a spokesperson for the environment department told Guardian Australia: "Recent experience in Australia had shown that negative commentary about the status of world heritage properties impacted on tourism."
Ah, okay! So Australia was concerned that people might not be so keen to go scuba diving if they knew that a post-apocalyptic scene awaited their eyes.