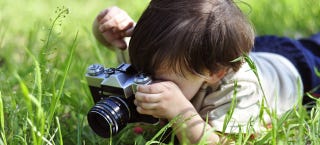 For photographers, the coming of warm weather brings the boundless potential of exploring the great outdoors with your camera (without getting frostbite). Here are a few useful items to consider when taking pictures in the elements.
Compact Tripod
Exploring the outdoors with camera gear can get awfully heavy—and, if you are doing timelapse or nighttime shooting, a lightweight, compact tripod is a must. MeFoto has gained quite a following with their super small sticks. The carbon fiber version is not cheap at $370 on Amazon, but shaving pounds off your gear bag can pay dividends on long walks or hikes.
---
ND filters
Spring sunshine has its drawbacks for photographers. Too much of it can force you to shoot at small apertures and eliminate out-of-focus background effects. An ND filter will cut the light reaching your lens and let you shoot at wider aperture values. Make sure to get one that fits your lens diameter. You can get a set with a few different values, or you can go all out and get a variable ND filter, for a price.
---
Weather-resistant backpack
You can go crazy trying to choose a camera bag with all the variations out there. For outdoor jaunts, we recommend a backpack over a sling. Make sure you choose one that is water resistance and has easily accessible compartments. The LowePro Flipside 200 is a great option for carrying the bare essentials of a DSLR kit.
---
Compact shoulder bag
For more casual walks in the park, maybe you want something even smaller that just carries a mirrorless camera and lens. The ThinkTank Retrospective 5 is stylish and compact enough to sling over a chair or coat-hook so you can just grab it on your way out.
---
Weather-sealed camera
We all know about springtime and rain showers. Prepare for a downpour by investing in a weather sealed camera. For a DSLR, most medium range bodies fit the bill, like the Canon 6D or Nikon D7100. If you are a mirrorless type, quality weather-sealed bodies include the Olympus OM-D E-M1, Sony A7, or Fujifilm X-T1.