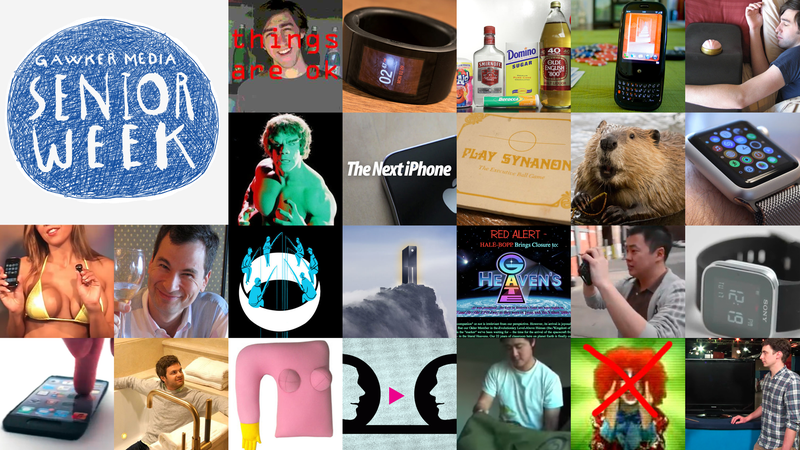 Gizmodo isn't going anywhere. But as you know by now, a bunch of stuff happened involving an angry billionaire and a wrestler, and now our parent company, Gawker Media, is being acquired.

Gizmodo will remain the best publication in the world, or at least top three. But it's fair to say that next week marks the start of a new period here at Gizmodo, and at Gawker Media. In honor of new beginnings, we decided to look back at the best from our past—by assembling Gizmodo's greatest work, as so deemed by its former writers and editors, from the pre-acquisition era.

Anyway, that was the plan. But given that Gizmodo tends to hire stubborn, poorly behaved, insurgent little twit bloggers, I ended up getting a big pile of random shit from them. Some of it is eloquent and succinct. Some of it desperately needs an edit. Some of it clearly did not follow the orders laid out in my email. In fact, some of the submissions weren't even about blog posts or Gizmodo (???) and were therefore omitted, sorry!
Here is what I was able to salvage, in no particular order, from nearly 30 former Gizmodo staffers. And truly: it's all wonderful. RIP Indie Gizmodo 2002-2016 // Gizmodo 4Ever.
---
Adam Frucci—(2006-2010)
My favorite post was deleted from the main site for obvious reasons, but it lives on on Gizmodo Australia.
This video is overwhelming: the inflatable palm tree, that Simpsons font, the music, the obvious impossibility of making some no-name bluetooth headset "sexy." The whole thing feels like a mix between a local commercial and a snuff film. The midwest's own gadget-blogging Larry Flynt, Charlie White, made this, which somehow didn't make it past the pilot episode. Charlie, where's episode two??
---
John Mahoney—(2008-2009)
I submit the day we wrote the entire blog as if it were taken over by the spam worm Conficker.

There's no real tag but this link should give you a homepage view where these posts start ("DAY OF YOUR DEATH"). They go on for...several pages.
It really reeks of 2009: spam worms (lol), horrible April 1 internet jokes (conficker was supposed to check in and do something unknown and scary on April 1 so there was an EXCELLENT news peg). We also posited that conficker's origin was an STD carried by Adam Frucci.
The comments were split about 50/50 on those who thought it was funny and those who just wanted it to end. One of the ongoing gags was that we were asking in this weird computer spam voice that people submit their social security numbers in the comments, and Mark Wilson wrote what was maybe the funniest post of the day to me, when he wrote to all the angry commenters as himself, promising to end it all if they all just...commented with their social security numbers. I laughed really hard at that one, but by this point at the end of the day I'd been drinking for some time.

But yes this was truly ART if you ask me. One of my biggest regrets was losing the exceedingly detailed style guide I wrote to all staff the night before. It had tons of spam email text we could pepper in (Gmail spam folders were really incredible around this time, just thousands and thousands of these insane stream-of-robot-consciousness messages which I also wish I would have saved more of). It also had image guidelines and templates (save all JPEGs at 10% quality level, overlay fluorescent green or magenta text if possible). The whole thing would really be a Document with a capital D of mid-2009 spam aesthetic had I not forgotten to save it out of my Gawker email.
---
Kelsey Campbell-Dollaghan (2013-2015)
It took me a week to pick a favorite post (sorry, Katie) because THERE ARE SO MANY. Giz gave a smart and hilarious group of writers a platform to blog about almost anything through the lens of technology, including cults, bad science, the politician-robot cabal, hating CES, liking CES, drought, smells, underpants, the future(s), and oh—oh, yeah, phones and VR and headphones and gadgets. But I picked this post [Antiques Roadshow Appraised My 2008 Toshiba TV] because it reflects the soul of the blog during a certain era, and also because it's really funny. And a little bit poetic. /play clowntown.
---
Kyle Wagner—(2011-2013)
To me, a good Gizmodo post should have some material effect on the world around us. That effect could be anything from tech support/light detective work provided to a man who made his fortune reblogging instruction manuals to the professional reputation afforded a blogger who fucked a FleshLight strapped to an ottoman. The best, like this post, alloy that real-world-technology with the DNA of the staff. Ostensibly, this is a product test for a G-Form iPhone case which had been marketed as "rugged." Practically, it's just a video of Sam Biddle throwing his iPhone off of a roof to obvious, predictable effect. "Your iPhone Will Still Shatter If You Drop It From a Roof with This Super-Case," the headline offers. True. The case's makers never made any claim that it wouldn't (that was the iPad version). Sam, who is an idiot, had not read the box. Sam's phone, which belonged to an idiot, paid the price for Sam's incompetence. Sam was not due for an upgrade with his carrier. The blog did just-OK traffic.

---
Joel Johnson—("All of them" when asked what years he worked at Gizmodo)
There are too many. But one first floated to the surface: Biddle's 2012 piece about going Wisconsin to take a "tech" bath with Kohler. It's not the best writing that's ever been on the site, nor the most ridiculous or insightful or useful, but it was the first piece that felt like young Sam was taking the best things about Gizmodo—freedom to experiment with the form, an open-hearted interest in whatever new technology was sludging through the pipes each day—and exploiting the agency to put himself in the center of a story. It was one of the first times his writing coalesced into the sincere, uncomfortable, and empathetic style that he has continued to develop (primarily via text message). The best thing about Gizmodo has been that it has served as the sophomoric swamp from which a thousand wonderful dumb idiot bloggers have bloomed, and their influence has leached far outside of tech writing.

---
Matt Buchanan—(2006-2012)
Joel's going to be so mad (or not care at all).

If you haven't seen though, it's worth watching the time brian threw a halo 3 swag bag off his balcony and spoiled the game a day before it was released. (A few weeks later, over a halo 3 competition, we tubgirled the front page of kotaku. It turns out the glory days of gadget blogging was in no small part a bunch of people acting like teenage buttholes!!!! Possibly because we were working 80 hours a week to do things like be the first to post a grainy picture of a new playstation taken from inside someone's intestinal tract, idk man.)

---
Ashley Feinberg—(2012-2015)
My favorite post I ever wrote for Giz was about Heaven's Gate's still-active website. When I found the site, I wasn't even thinking about writing something; I just really wanted to buy the book they're hocking on it. But then when I realized the people selling it were actually true-believers and willing to answer questions, I found my new best friends and am now just waiting 'til the day I can reach the evolutionary level above human.