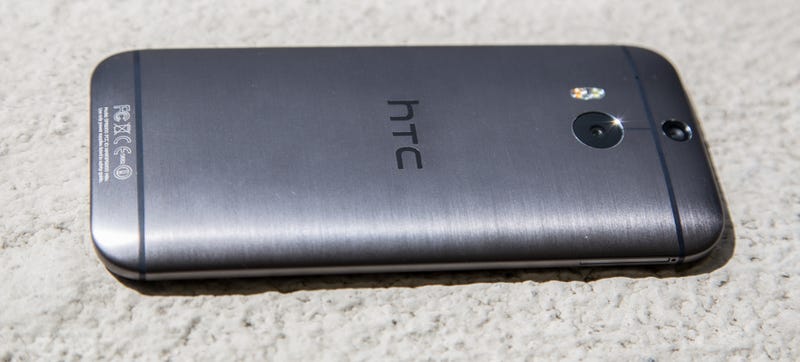 Last year, HTC gambled on funneling its resources into a single flagship smartphone. That bet paid off in the form of the One, the first truly beautiful Android device. Its successor—the new HTC One—builds on that existing framework. It's all grown up, in all the right ways.
The Look
We say grown up both because the 2014 One has more mature features and, well, is literally bigger. HTC has joined in on the ever-creeping size of Android phones, with a new a five-inch 1080p screen, a slight jump from last year's 4.7-inch device.
It's also cloaked in an impressively sleek metal unibody backing, with an edge-to-edge screen. You can get it in three colors: metal grey, gold, and silver. The grey (pictured here from our brief hands-on time) definitely gives the One a more high-end feel, and in spite of its bigger screen it doesn't exactly feel unwieldy thanks to that same slimness.
For the record, an all-metal phone is generally not the kind of thing that plays nice with good reception, but HTC says the One has been designed with several antennae sliced in, so the design shouldn't sacrifice signal strength. This held up in a demo, sure, but we'll see how that works in our own testing.
The Camera
Beyond design, next most notable improvement comes from the camera. The new shooter is called the HTC Duo camera, and it ditches the optical image stabilization of last year's model in favor of an automatic, software-based stabilization. Translation: it makes your images less shaky, without downgrading quality (if it works as advertised).
Otherwise, HTC is sticking with its 4MP camera (same as last year), and the front-facer is 5MP for some high-quality seflies. Don't be turned off by that low-sounding spec on the rear lens; HTC's UltraPixels are designed to capture more light, and they more than hold their own.