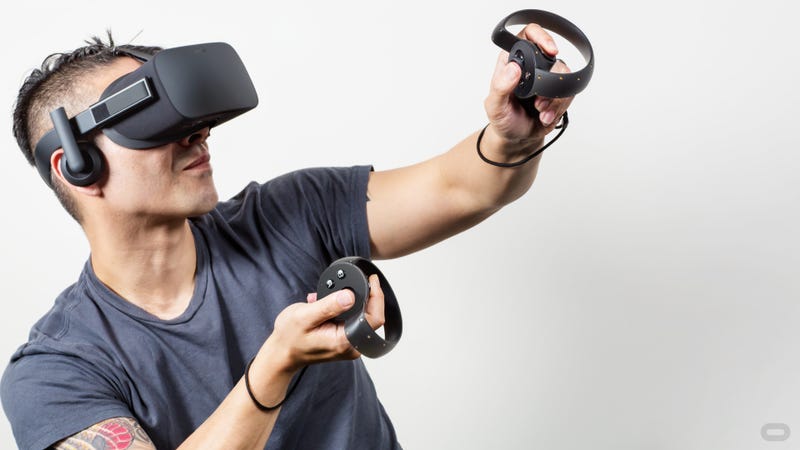 Were you hoping that Oculus' big push for virtual reality would include a revolutionary controller? Something that would let you actually touch the virtual worlds? You'll get it, but not for a while. Instead, the final Oculus Rift is going to ship with a standard Xbox One gamepad. Yawn.
Don't get me wrong—the Xbox One controller is a great gamepad, but it feels like an odd device to ship with the Oculus Rift. The Rift isn't the only (or even the first) consumer virtual reality headset, but it's definitely the most recognizable. It helped drag the idea of virtual reality back into the public eye. Oculus VR has spent millions researching new and alternative game controls. It's been teasing a new paradigm of personal entertainment for years and now, when it finally reveals it—it's using the same ancient dual-stick gamepad we've been using for a decade. Really? Really.
The move makes some degree of sense: Oculus founder Palmer Luckey says some game experiences, like Lucky's Tale and Eve: Valkyrie specifically, just play better with a typical gamepad. He looked at the audience apologetically as he said it: "They just do." Privately, he also tells us that it's nice to have a second hand to push against—with one-handed controllers, you're pressing against your palm and it can be a little awkward.
He's right—buttons are wonderful, and in a seated or third-person game experience, they're pretty hard to beat—but in the face of the amazing 1:1 hand tracking tech Valve showed off with its Lighthouse controllers, it doesn't feel good enough. And at first, that's all company let us believe they were going to give us in terms of controllers.