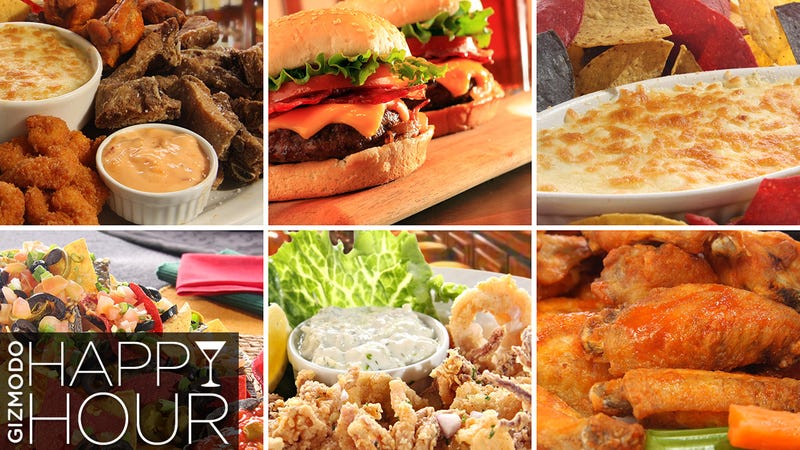 Hey, football fans! Super Bowl Sunday is on the horizon—which, for many of us, means a day of eating garbage and tossing back drinks. But don't do it all willy-nilly. Like a sommelier at Guy Fieri's restaurant, we've got the perfect drinks to complement your disgusting food choices.
It's Friday afternoon, you've made it through the long week, and it's time for Happy Hour, Gizmodo's weekly booze column. A cocktail shaker full of innovation, science, and alcohol. Time to spike your gut.
Chips/Pretzels + Ale
Ah, the most ubiquitous game-time snack. Chips and pretzels are what your brokeass friends are most likely to bring over, there's nothing wrong with that—they're solid performers in the casual munching category. Chips are packed full of salty, intense chemicals flavors that can overwhelm your tastebuds. Drink a light beer with it and you'll think you're sipping club soda. Instead go for a full bodied ale. Something darker, with robust flavor. The bitter and salty flavors will complement each other nicely, and you'll be able to fully taste both.
Wings + Frozen Margarita
Mmmm hotwings. Dripping with sauce, packed with spice. Maybe a little too much spice, tough guy? It's cool. Whip yourself up a frozen margarita in the blender. The cold will help soothe your burning mouth and the sugar will help neutralize the spice. Until you eat another wing, that is, then the ride begins anew. A piña colada will work, too, if that's how you roll, but you are not allowed to put an umbrella in it until after the game ends.
Pork Rinds + Michelada
In my book, the only time it is acceptable to eat pork rinds is when watching football. The crunch goes perfectly with those dudes on TV pulverizing each other, but the greasy film it leaves in your mouth is pure nasty. Cut through it with a Michelada. It's just a light Mexican beer with lime, Tabasco, Worcestershire sauce, etc. (here's a nice recipe). The citrous and bubbles will help cut through the grease and it's quite refreshing. I actually prefer them to Bloody Marys as a hangover remedy.
Pizza + Red Wine
Pizza is perfect for you and your merry group of ruffians on game day. It has a lot of flavor, and so must your drink. You need something that goes well with tomato sauce, and this is something the Italians figured out centuries ago. Pizza pairs nicely with cabernet sauvignon, zinfandel, or chianti.
Burger + IPA
Now we're talkin'. Burgers are a bit on the heavy side, which is why should should sip an IPA as you chomp it. The hops in an IPA act as a digestive (which is why a strong IPA can upset your stomach if it's empty). It's going to help you break down that protein and fat, so you'll be ready for dessert later. Also, the burger's heartiness will help offset the IPA's elevated ABV, so you should be able to go stronger, longer.