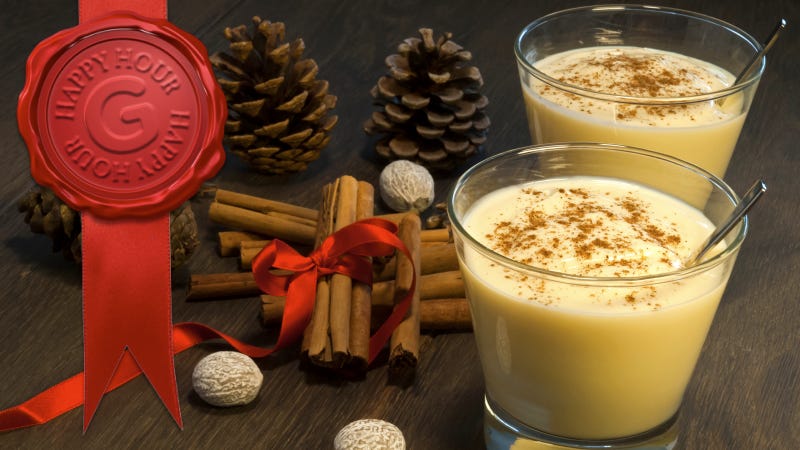 Have you ever felt like making boozy eggnog is a total crapshoot? Half the time you get a smooth and delicious cocktail, and half the time it's a lumpy, curdled mess. What gives?
Turns out there's a formula you ought to be following. Here's the scientific secret that will get you a silky nog every time.
It's Friday afternoon, you've made it through the long week, and it's time for Happy Hour, Gizmodo's weekly booze column. A cocktail shaker full of innovation, science, and alcohol. Thirsty, Santa?
Breaking Down the Nog
Whether you're making it from scratch or buying it in a carton, the main ingredient is almost always milk. Eggs (especially yolks) are in there, too, as is sugar, cream, and probably a dash of nutmeg and other spices. It's the milk, however, that is the clotty culprit.
Milk is roughly 87 percent water. The other 13 percent is composed of fats, sugars, and other compounds, including proteins—and the proteins are what make milk so interesting in a mixture. Eighty percent of the protein in milk is casein (the other 20 percent is whey). Casein molecules float around in tiny clusters called micelles. These micelles are not attracted to each other under normal milky circumstances—but eggnog is not a normal circumstance.
Upset the pH Balance
Fresh milk typically has a pH of around 6.7. (Water is 7, so milk is just slightly more acidic.) However, once milk falls to about 6.5, the casein micelles try to cling together to survive the harsher, more acidic environment. When these proteins bind together, you get the big unappetizing curds. So what causes the pH to drop? Blame it on the booze.
Pure alcohol (ethanol) is almost perfectly neutral (pH 7), which wouldn't cause any reaction in the milk. But spirits aren't pure alcohol. Most spirits are only 40 percent pure alcohol, and the rest of the solution is quite acidic. The stuff you're most likely to add to eggnog—brandy, bourbon, or rum—can have a pH all the way down in the 3's or 4's. So a shot of hooch is more than enough to tip the scales on a to a cup of milky nog. In fact, even beer is acidic enough to curdle Irish cream, and drinkers of a certain "bomb" drink can tell you. However, there is one clot-fighting hero in this game.