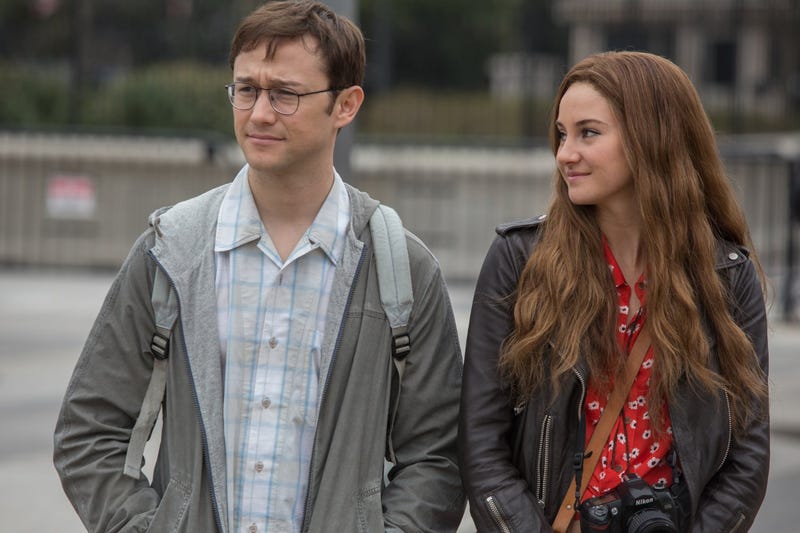 Last month, Edward Snowden's lawyer told me that Oliver Stone's new Snowden biopic "tells a true story." After seeing it, I can confirm that it's an accurate portrayal of the events leading up to and following the whistleblower leaking a trove of National Security Agency documents to journalists. It's in there, injected with decorative bullshit.
There was a lot of hype surrounding the Stone take on Snowden, and how it could make his story more accessible. More accessible, presumably, than the definitive Snowden film—the Oscar-winning, gripping documentary Citizenfour (2014), the bulk of which was shot when journalists Glenn Greenwald and Laura Poitras traveled to meet Snowden in Hong Kong, where he was holed up in a hotel room.
Ultimately, Snowden fails to explain the implications of Snowden's leak and just how bad the NSA spying really was. The NSA is presented inelegantly as a flat movie villain that Snowden once thought was dope and cool, then bad. In the foreground, Stone cranks up ancillary drama without adding much else.
The movie is rooted in the love story between Edward Snowden, played by Joseph Gordon-Levitt, and his girlfriend Lindsay Mills, played by The Fault In Our Stars' Shailene Woodley. This relationship, as Oliver Stone said in a Q&A following a movie screening last night in New York, was the drama needed to make the Snowden story exciting enough to be a Hollywood movie. There's drama, but it's really not exciting.

Sure, Snowden and Mills' relationship problems adds some flair to the movie. They fight about Snowden having to relocate around the world because of his job as a CIA agent, and later in his role as an NSA analyst. They make up with some enthusiastic vanilla sex, halfway through which Snowden looks across the room at this computer camera and gets freaked out. Eventually Mills joins Snowden in his exile in Moscow, which is presented as a little postscript at the end of the film. As Joseph Gordon-Levitt admitted at the post-movie Q&A, the conflicts are the same kind of fights you'd expect from any other relationship. None of it added much nuance to the underlying story.