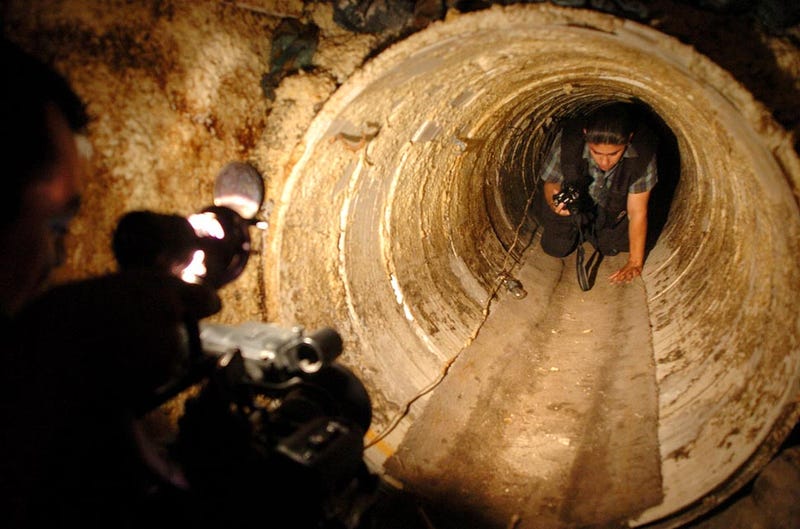 The very fact that underground robots being used to patrol the U.S./Mexico border—a program now moving into its second decade—can be greeted with what amounts to a disinterested shrug is a good indication of how sci-fi our everyday lives have gotten. There are underground robots patrolling the edge of the country.
As the Christian Science Monitor reported last week, the diverse family of semi-autonomous vehicles used by U.S. border patrol agents remains in flux, incorporating new designs and technical capabilities. Indeed, innovations across the field of media robotics—from remote-controlled CCTV to multi-spectral cameras—will all but inevitably find their way into police work and, by extension, into the active patrolling of the nation's outer periphery.
The specific news peg of the CSM piece was the recent deployment of a wireless camera drone—seen in the image below—that can inch forward through tunnel networks to illuminate, photograph, and film their deep interiors.
AP Photo/Brian Skoloff
"The underground gadgets add to the border's growing collection of virtual surveillance tools that the federal government has bolstered in recent years," CSM explains, "including camera towers, unmanned aerial drones, and a variety of wireless technology." The border, in a sense, is being turned into a weaponized media studio kitted out with camera gear that could make even a film student jealous.
Not unlike hardened versions of the archaeological ground-robots we looked at here on Gizmodo last year, these little spelunking machines extend their human operators' visual powers deep underground.