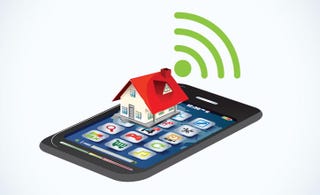 The networked home is something of an emerging zeitgeist, offering today's consumers a domestic dreamworld in which every object in your house can be remotely controlled, synced together, and activated according to preset patterns, from heating systems and coffee makers to alarms and personalized lighting.
At Pepcom last night, the various hubs and subsystems that would make this vision real were on display at a variety of tables scattered around the convention space; when you weren't left speechless by the sight of actors wandering around dressed like dwarves from The Wizard of Oz or simply mesmerized by surreal filmloops of unidentified people packing tomatoes into plastic bags on the HD screens of enormous new televisions—this was a real video and I watched it—you might have spied the routers, thermostats, alarm systems, motion sensors, door locks, and more from companies such as Honeywell, Schlage, Nexia, and Revolv.
They—and many other companies not attending Pepcom, such as Iris—are orchestrators of a new vision of the modern household. The home is perhaps now seen less as a warm and cozy space defined by the personalities of the people who live there and more as an immersive constellation of technical objects all communicating with one another about their real-time statuses and needs. We will live amongst familial systems of intelligent things, these companies proselytize, our houses now inhabited networks preprogrammed and responsive to our most impulsive needs.