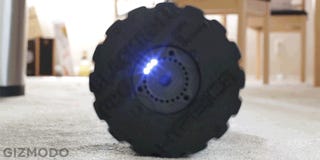 It's no secret that foam rollers have been a key part of physical therapy for years. Athletes use them not only to heal from injury, but also to increase flexibility before training and to speed recovery after strenuous exercise. The Vyper is the first foam roller to add vibration to the equation though, and holy crap it's amazing.
The Vyper is the second product to come out of Hyperice, which made a name for itself by basically creating a new generation of wearable icepacks that won the hearts and musculature of a bunch of high-profile professional athletes. The Vyper isn't a cooling device. It's a deeply ridged and very firm foam roller with a lithium ion powered vibrating mechanism at its core. The company is funding the Vyper through Kickstarter, and though it has already surpassed its goal by a long shot, it asked if I'd be interested in trying one out.
To give you some background, I've been grinding various body parts up against foam rollers for years. They were absolutely integral for fixing my knees, and now to keep them working well and pain-free I basically need to roll out my IT bands after every run or bike ride. I've also used them in rehabbing torn rotator cuffs, and for general soreness in my calves, back, and neck. I've experimented with various foam densities, materials, and textures. All that is to say that I know my way around foam rollers, and I've never experienced anything like this.