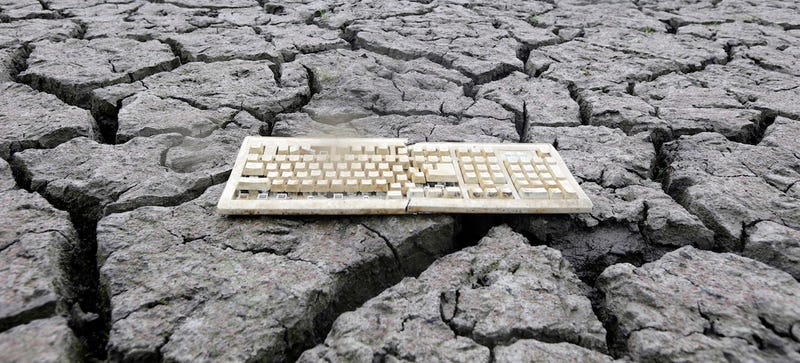 California's chief snow surveyor ventured into the Sierras this week to see how much water the state can expect from the spring melt—and he came back with very bad news. The devastating drought that the state's been dealing with the past few months will continue to devastate for the foreseeable future.
Dam it. No, seriously: proposals are now popping up in Congress to build more dams and redirect irrigation water—anything to quench the state's thirst. Others want to drill for water or even construct complex systems to collect rainwater. Unfortunately, there are no perfect solutions, save a rain storm of Biblical proportions.
So it's time to start talking seriously about the consequences. Last year was the driest year in California's recorded history, and, in January, Governor Jerry Brown declared a state of emergency. This never-ending drought is going to affect how Californians put food on the table, how many of us eat, and how everybody thinks about climate change. This is why you should care.
Let's Start with the Bad News…
Frank Gehrke, chief of snow surveys for California's Department of Water Resources, was supposed to bring back good news. In a way, it couldn't have been much worse. The snow melt that many hoped would end California's drought didn't just come up short; it sort of set the state back even more.
This year, there are just eight inches of water tied up in Sierra Mountains' snow. That's only 29 percent of the normal amount of water and the lowest reading at this time of year since 1988. Since Sierra snow melt is a major source of water for California, this is very bad. Historically, snow levels don't increase after April 1, but the snow melt after that date makes up some 60 percent of California's reservoirs.
California can't depend on April showers, either. Southern California's been enjoying some much needed rain, but the recent string of downpours isn't going to be enough to fill the reservoirs. Meanwhile, rainfall in northern California is just 50 percent of the historical average, and water levels at the state's biggest dams are at about half capacity. That's all very bad news. How bad? This bad.