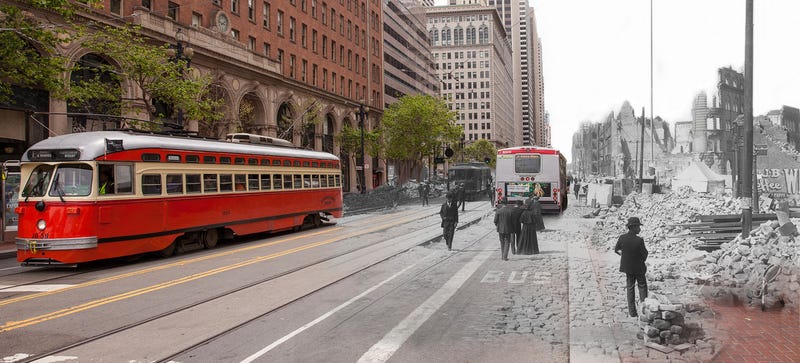 Cities change: skyscrapers go up, row houses are torn down, neighborhoods gentrify, earthquakes destroy. Vintage photographs of cities can be fascinating in and of themselves, but the familiar unfamiliarity of these time-warped photographs are especially intriguing.
From San Francisco to St. Petersburg, here are how cities have changed—and not changed—over the years. See history peek through familiar modern sights.
---
Porte Saint Denis in the 10th arrondissement
Quai des Grands-Augustins during the floods of 1910
The French blogger behind Golem13.fr went around snapping photos of Paris last month, and then stitched them together with postcards from the early 19th century. Check out more of the work, including Parisian icons like Notre Dame and Moulin, over at Golem13.fr.
---
Edna Egberg climbed into her ledge fighting with policemen, 1942.
A stolen car smashed into the streetlight in Brooklyn, 1957.
Using the archives of the New York Daily News, photographer and historian of the New York Press Photographers Association Marc Hermann put old crime scenes into their modern-day contexts. As Alissa Walker observed writing about these photographs for Gizmodo, it's stunning how little New York City has changed over the decades. Other than a coat of new paint, the buildings are still largely intact and unchanged. [New York Daily News]